Since a beautiful table is nothing without a good meal, we have teamed up with @claireaumatch to offer you creative and seasonal recipes that will delight your taste buds and those of your guests!
For one large jar of Granola
150g of coarse oats or a mix with 5 grain flakes / spelt flakes
150g of oat bran
15g of oat flakes
15g of flax seeds
30g sesame seeds
40g pumpkin seeds
1 heaped tablespoon of honey
2 heaped tablespoons of syrup or maple syrup or honey
100g of applesauce with no added sugar (or a little more depending on the texture of the applesauce, commercial or homemade)
1 heaping tablespoon of almond or hazelnut puree
1 good pinch of fleur de sel
1 nice pinch of cinnamon (optional)
About 180g of dried fruit: walnuts and pecans, hazelnuts and whole almonds, coarsely crushed
Note*
: Optional: chocolate chips or coconut petals, to be added after cooking and cooling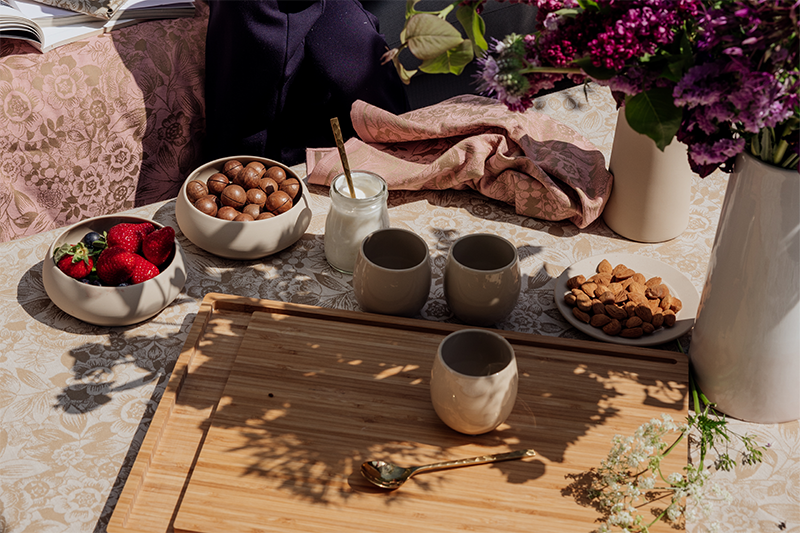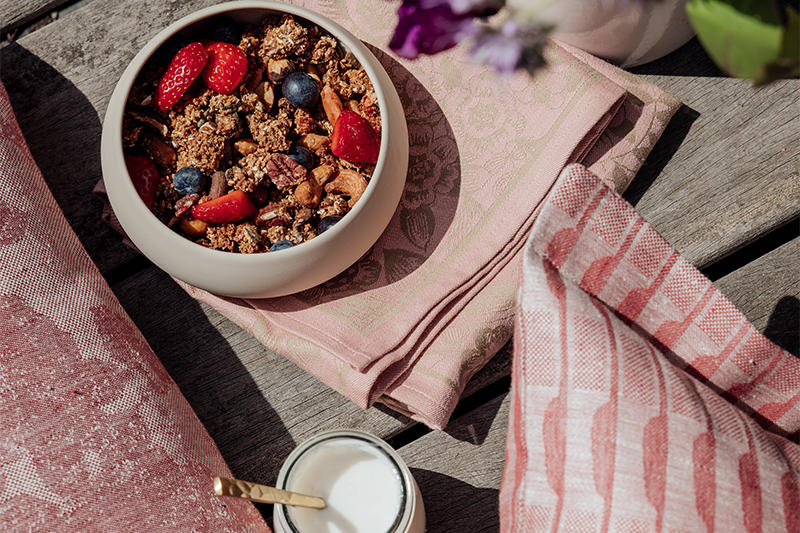 Preparation
Preheat oven to 150°C, fan oven mode.
In a large bowl, mix all the ingredients without the dried fruit, in order with a tablespoon and then by hand to form large nuggets. When everything is well combined, add the very coarsely crushed dried fruit last and gently fold in.
Pour the mixture onto a large baking sheet covered with parchment paper and form large nuggets with your hands by combining the ingredients and "pressing nuggets" with your hands.
Note: If the texture is not amalgamated enough and large nuggets do not form, add a little liquid (compote and/or almond purée). Even out the surface and make a large hole in the center, without Granola, to evenly cook the nuggets..
Bake for about 40/45 minutes in a preheated oven at 150°C.
After 20 minutes and then after 35 minutes, take out the baking sheet and very gently mix the nuggets The Granola should be golden brown.
Take the baking sheet out and let it cool down completely before pouring the granola into a glass jar and store it in a dry place away from the light for 1 to 2 months.
Enjoy with yogurt, milk, compote... Whatever you like!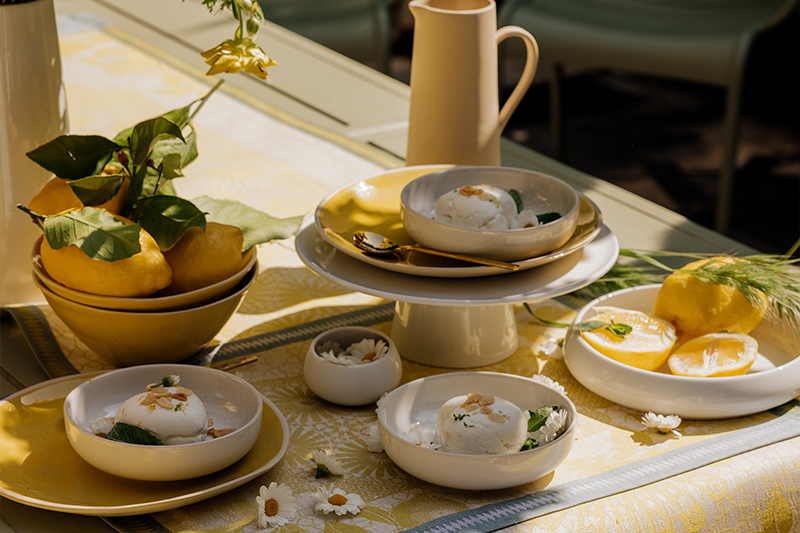 Ingredients for 6 people
2 large yellow lemons + 1 large lime + their fine zests = 105g lemon juice in total
150g sweetened condensed milk = 1 tube
200 mL full cream or very cold whipping cream

To serve:
Lime zest
Roasted slivered almonds
A few chopped mint leaves
Fruit coulis or strawberries or raspberries or mixed berries
Preparation
Finely zest the 2 lemons and the lime and squeeze their juice. Pour into a bowl and add the condensed milk. Mix well with a tablespoon.
Whip the very cold cream (kept in the refrigerator and put in the freezer for 30 minutes so that it rises well) into a firm whipped cream with an electric mixer or a food processor fitted with a whisk attachment, starting at low speed and rapidly increasing the speed to maximum.
Add the whipped cream to the bowl of lemon condensed milk in batches, mixing gently with a spatula or tablespoon.
Pour the preparation into 5 to 6 silicone molds and freeze for at least 6 hours. It will keep for several weeks.
Arrange the plates: remove the ice creams from the molds and let them thaw at room temperature for 15 minutes or put them in the microwave for a few seconds, as I did, so that the texture is perfect: icy but not too icy!
Add a few more lime peels and sprinkle with toasted almonds. Serve with fresh fruit, raspberry coulis or lemon curd for extra lemon flavor or nothing at all!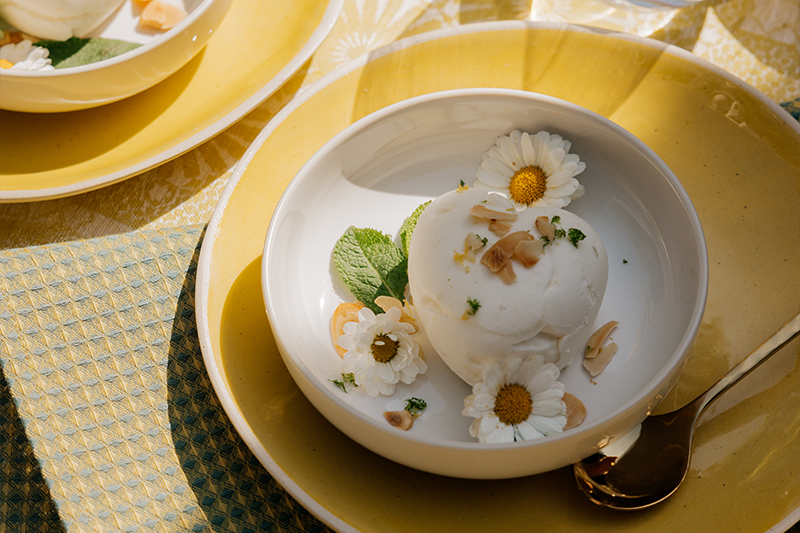 Ingredients for 6/8 people
Meringue :
4 large egg whites (= about 150g without the shell) at room temperature
230g powdered sugar
1 pinch of salt
1 teaspoon of white vinegar
2 teaspoons of cornstarch
Topping: whipped cream with mascarpone :
1 packet of vanilla sugar
1 heaping tablespoon of powdered sugar
400 mL of cold full cream + 50g of mascarpone
Fresh fruit:
For example fresh strawberries and/or raspberries
50g of dark chocolate, crushed into large chips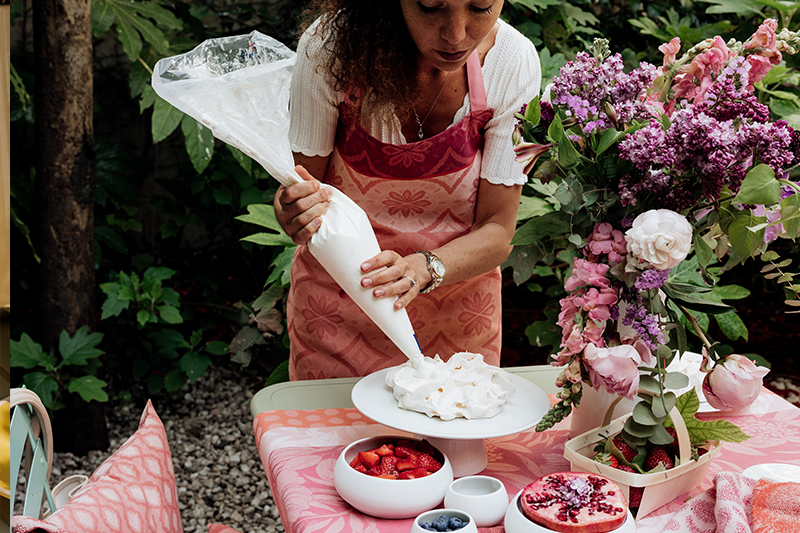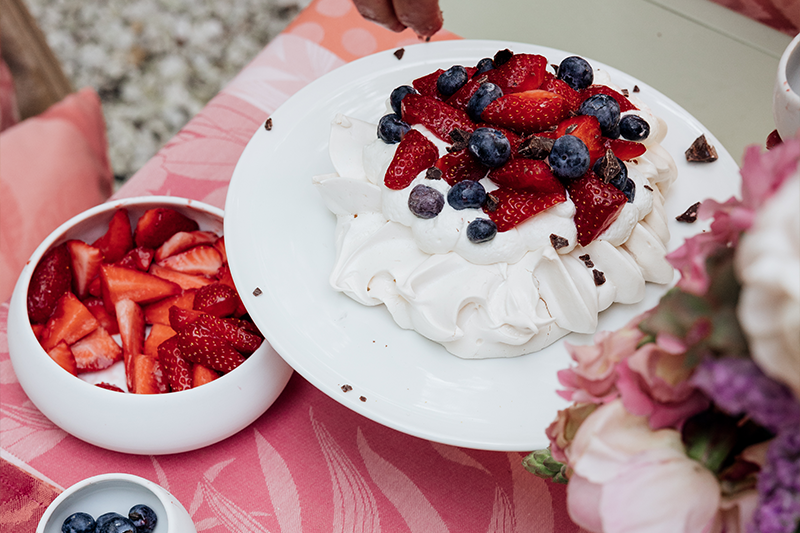 Preparation
Start with the preparation of the meringue:
Preheat the oven to 180°C.
Place parchment paper on a baking sheet.
Using an electric mixer or a food processor fitted with a whisk attachment, beat the egg whites with a pinch of salt, starting at low speed and gradually increasing the speed.
When the whites are almost set, start adding the sugar slowly, tablespoon by tablespoon. Continue beating until the meringue is glossy. Stop the mixer, wait 5 seconds and then turn it back to high speed for another 5 to 10 seconds. Add the teaspoon of vinegar and the 2 teaspoons of cornstarch and mix gently with a spatula.
Using a piping bag, pipe the meringue thickly onto the parchment paper. This will be the base of the Pavlova. Form small meringue domes all around. You can also choose 4 medium meringues or 8 small meringues.
Put in the oven at half height and immediately lower the temperature to 120°C. Bake for 1 hour. If it browns too quickly, lower the oven rack and place the pavlova lower in the oven, it should be crisp on the outside but soft on the inside. Wait at least 30 minutes before handling and removing from the paper, this step can be done the day before with no problem. The meringue will keep perfectly well at room temperature, covered with aluminum foil, in a dry place.
Before serving: preparation of the cream and fruits
For the whipped cream, place the cream in the freezer for 15 minutes, it will set much more easily. Whip it with an electric mixer or food processor with the mascarpone and add the vanilla sugar and powdered sugar at the end. Cover with the fruit and sprinkle with chocolate chips, cut into nice pieces and serve with raspberry coulis added directly to the plates.
Serve immediately or refrigerate (4 hours maximum to avoid soaking the meringue).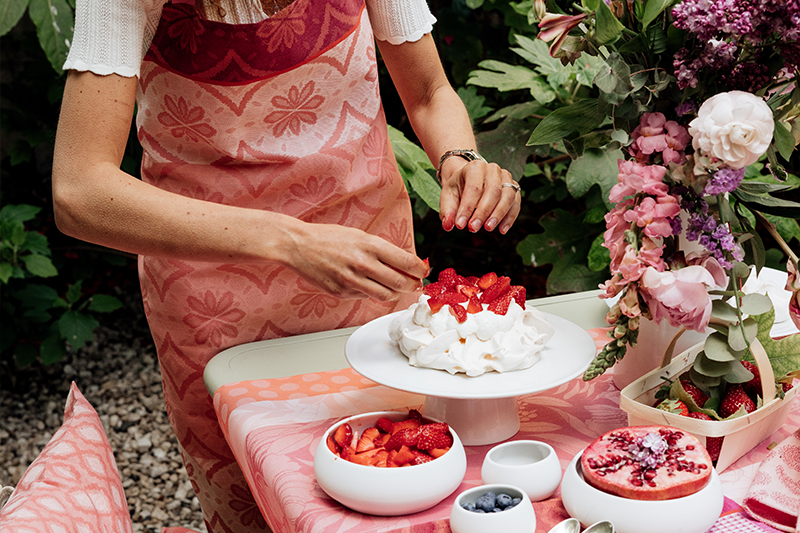 Cauliflower Semolina with Spices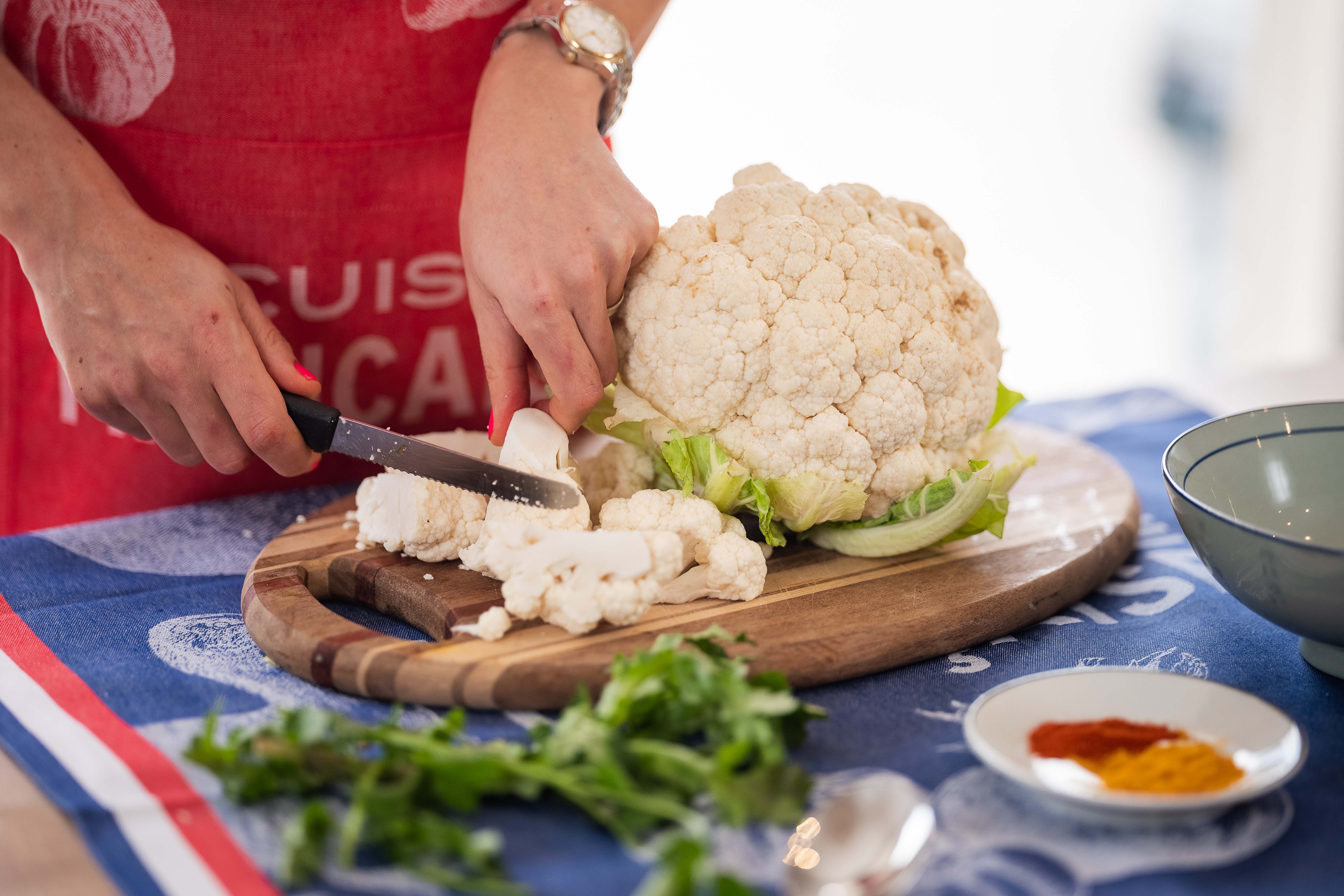 Ingredients for 4 persons
The florets of a nice cauliflower
1 tablespoon of coconut oil or olive oil
A nice pinch of turmeric
A small pinch of paprika
3 small spring onions, finely chopped
preparation
Place the cauliflower florets, cut into small pieces, in the bowl of the blender fitted with the blade and press Pulse several times. Pulse several times to obtain a semolina-like texture, but not too many times to avoid turning it into a puree. Ideally, you should not put all the cauliflower in at once, but rather proceed in several stages, removing the semolina already formed from the blender each time.

You can also use a manual grater if you do not have a food processor.
Heat a frying pan on medium / high heat and melt a tablespoon of coconut or olive oil then add the semolina obtained, the spices and make return about ten minutes while stirring regularly. It must brown a little. Add salt and pepper. Set aside. Just before serving, off the heat, add the finely sliced spring onions and mix.

This semolina can be kept in the fridge for a week without any problem, without the spring onions, and can be easily reheated in the microwave.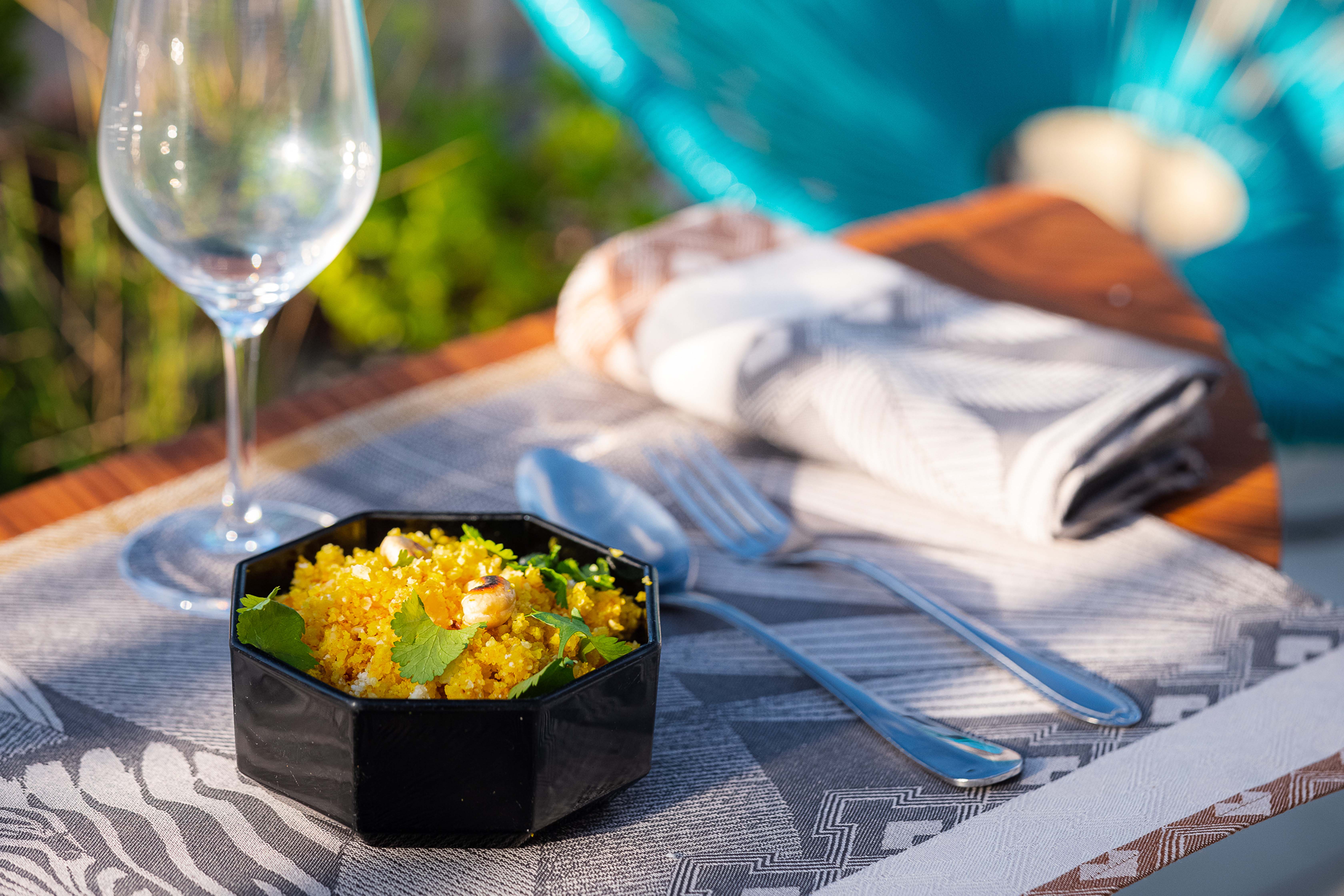 for about 20 crackers
15g of sesame seeds*, coarsely chopped
15g coarsely chopped pumpkin seeds* (if using)
15g oat flakes
15g flaxseeds*, coarsely chopped
10g of chia seeds*, coarsely chopped
65g wholemeal or semi wholemeal spelt flour* or semi wholemeal wheat flour
1 nice teaspoon of baking powder
1 pinch of paprika or other spice of your choice
1 pinch of salt
70g of water
35g of good quality extra virgin olive oil
Note*: Depending on the ingredients available, change the seeds and the type of flour, keeping the same proportions.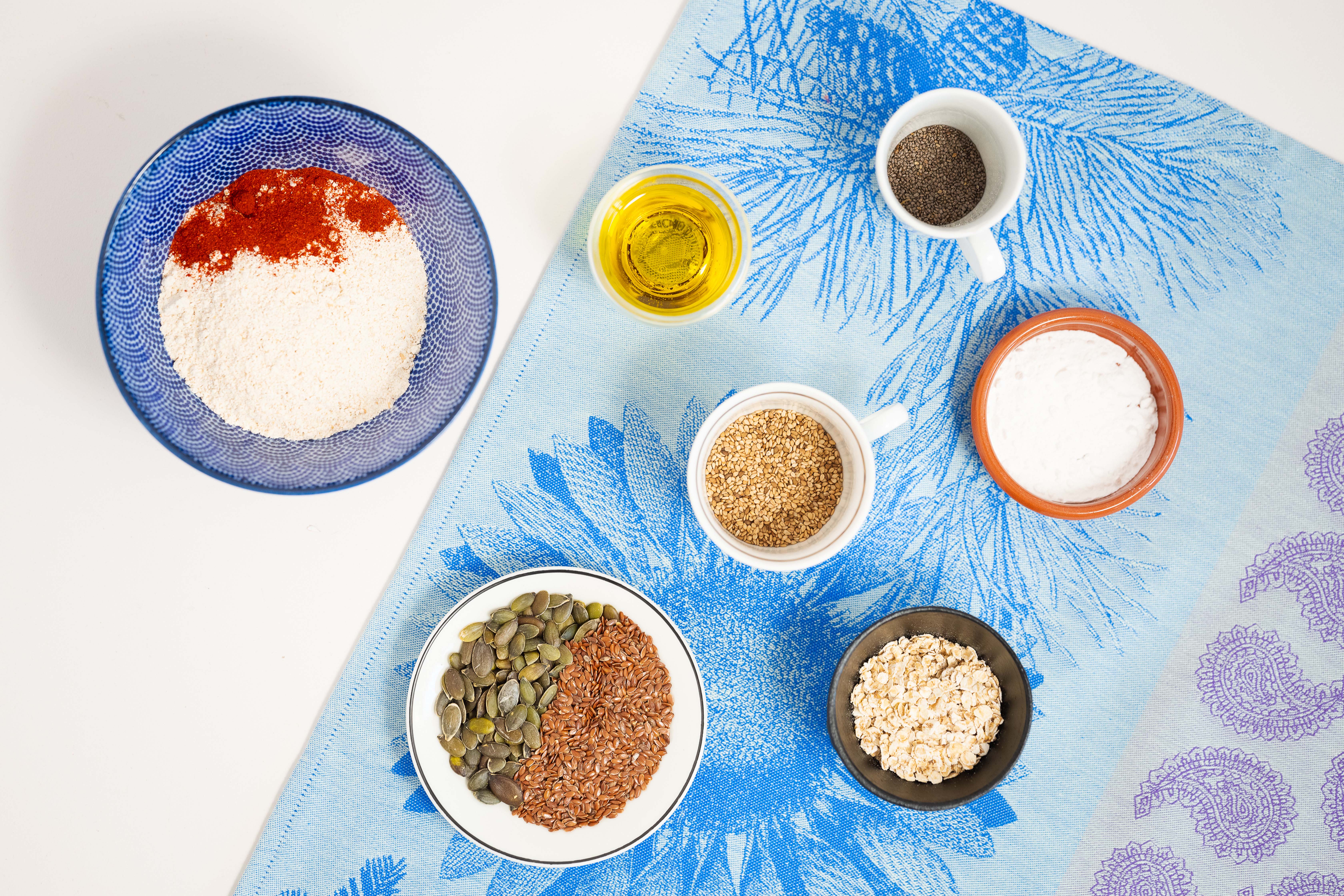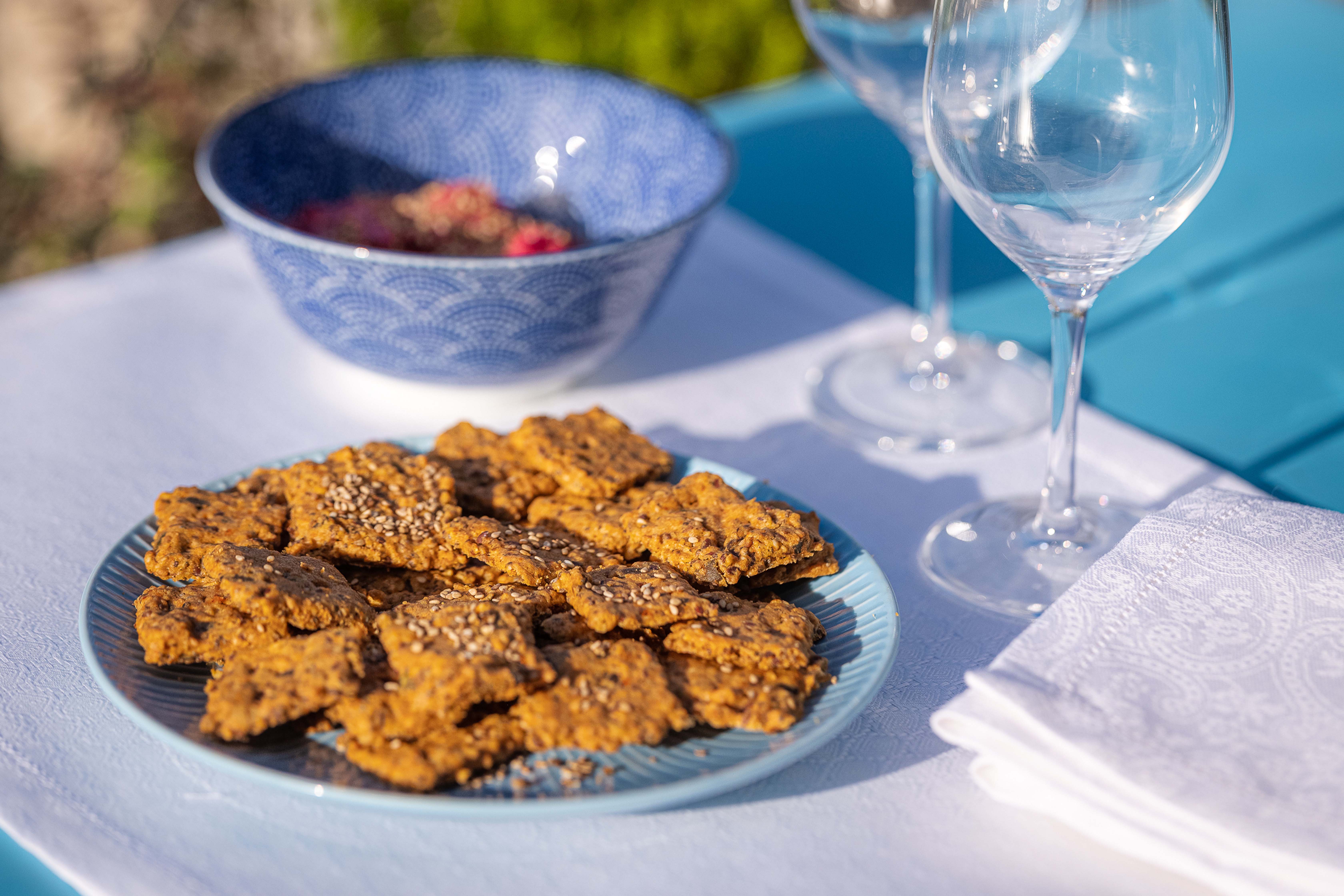 preparation
Preheat oven to 180°C
Mix all the ingredients in order in a bowl with a tablespoon to obtain a homogeneous preparation.
Roll out fairly thinly with a rolling pin between 2 sheets of silicone or parchment paper. The dough is very sticky, that's normal!
Place it on an ovenproof tray, leaving the parchment paper underneath.
Cut squares out of the dough with a pizza cutter or a good sharp knife or cookie cutters. Sprinkle with ground pepper.
Place in the oven for about 20 minutes at 180°C until golden and beginning to harden. Allow to cool completely, then cut with a knife to separate them and store in a tin for several days.
Chickpea and vegetable curry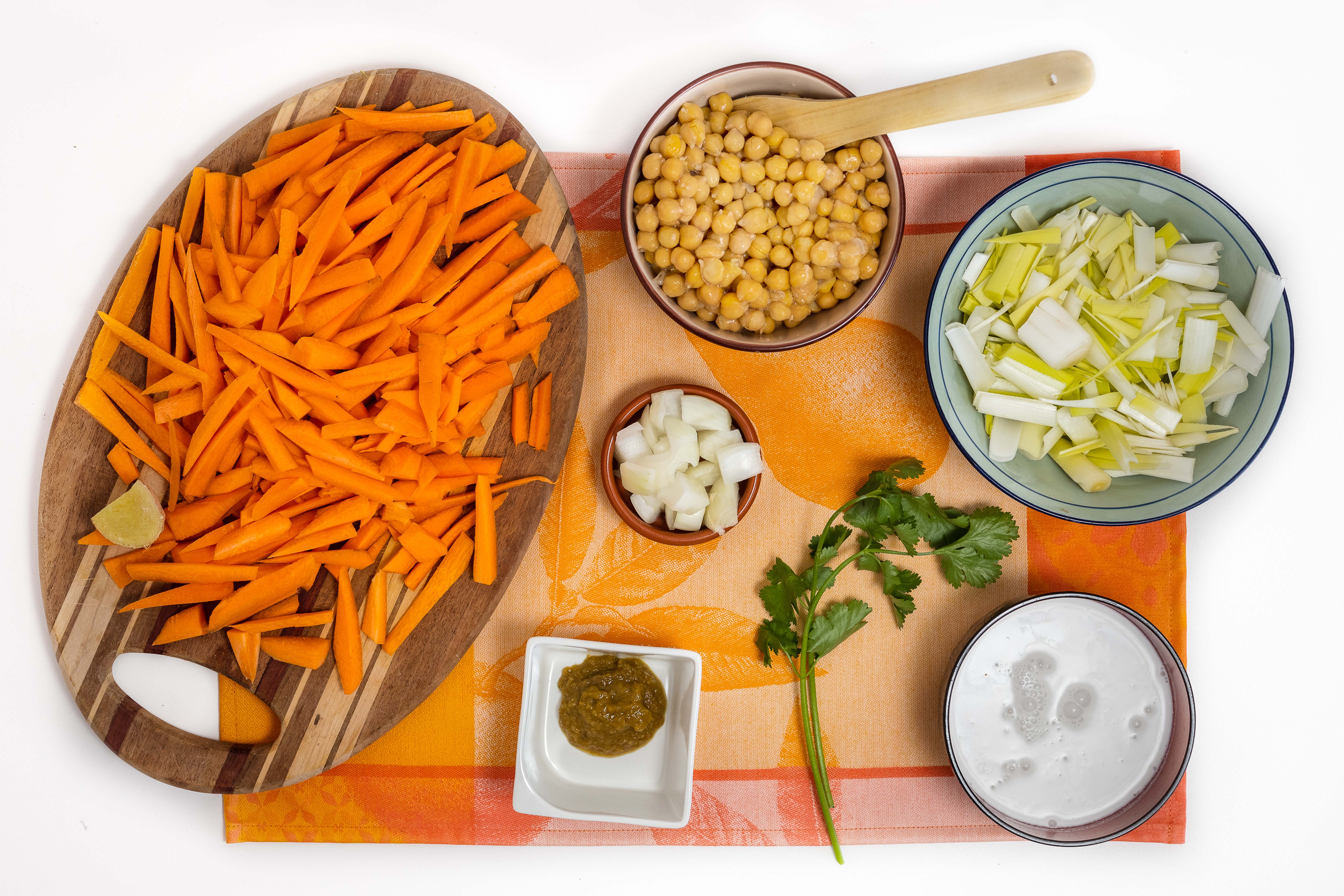 ingredients for 4 persons
1 large onion, thinly sliced
3 to 4 carrots
1 to 2 large leek whites
1 jar of cooked chickpeas, drained and rinsed thoroughly
1 tablespoon coconut oil or a drizzle of olive oil
500 mL good quality coconut milk
1 heaping tablespoon curry powder
1 tablespoon green curry paste
1 cm of grated fresh ginger
A pinch of Espelette pepper or cayenne pepper

To serve: A handful of unsalted cashews or peanuts, fresh coriander
Roast the cashews for a few minutes in the oven at 180°C or in a frying pan without fat. Coarsely crush them.
Prepare the chickpea curry: Heat a tablespoon of coconut oil or a drizzle of olive oil in a frying pan over medium heat and fry the thinly sliced onions until they become translucent, then add the peeled and finely sliced leek whites, leave to fry for a few minutes and finally add the peeled carrots, thinly sliced into strips. Brown everything for a few moments. Add a little water if the vegetables stick in the pan.
Add the grated fresh ginger, the spices, the curry paste, salt and pepper, then add the rinsed and well-drained chickpeas. Fry for about 5 minutes. Finally add the coconut milk, lower the heat and simmer for another 10 minutes on low heat. Taste and adjust the seasoning if necessary (add a little curry powder, chilli and salt to taste).
Arrange the bowls: Place some semolina in each bowl and pour the curry over it. This curry is also delicious served with rice.
Finish with a generous sprinkling of chopped coriander and crushed toasted cashews.
Serve hot but not burning to bring out all the flavors.