To make your Le Jacquard Français items unique, you can have a first name or a small word embroidered up to 15 characters. You have the choice between four scripts and 18 colors!
The embroidery is done by us in our factory in Gérardmer. You just have to add this option to your item, directly from the product sheet. Once your embroidery is registered, you can add your item to the cart.
IMPORTANT
Because of their personalized nature, embroidered items cannot be refunded or exchanged.
For orders including one or more embroidered items, please add 5 to 7 days to the delivery time indicated.
For even more customization, please contact our customer service who will offer you a custom quote to best meet your needs: ventes@le-jacquard-francais.com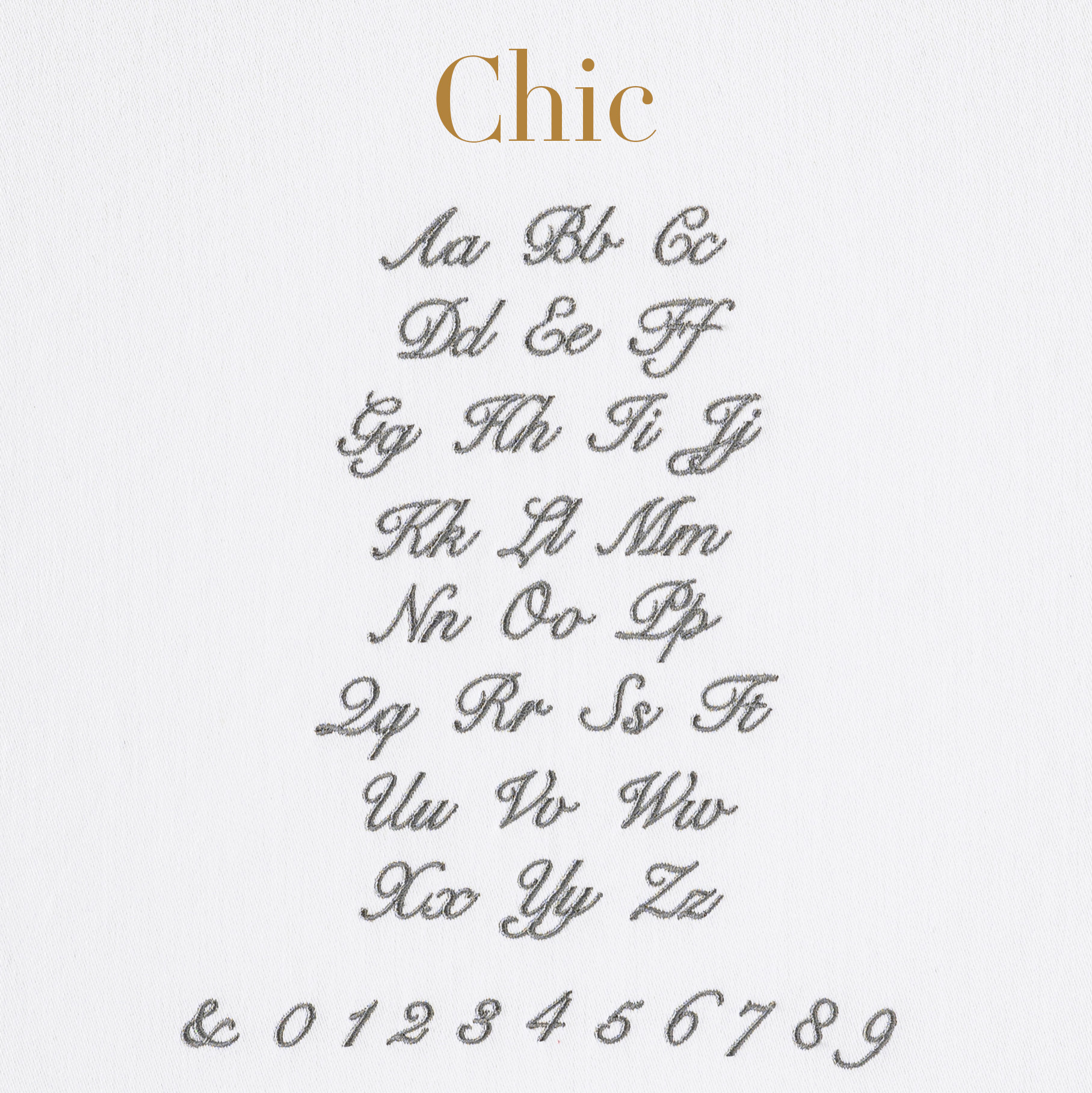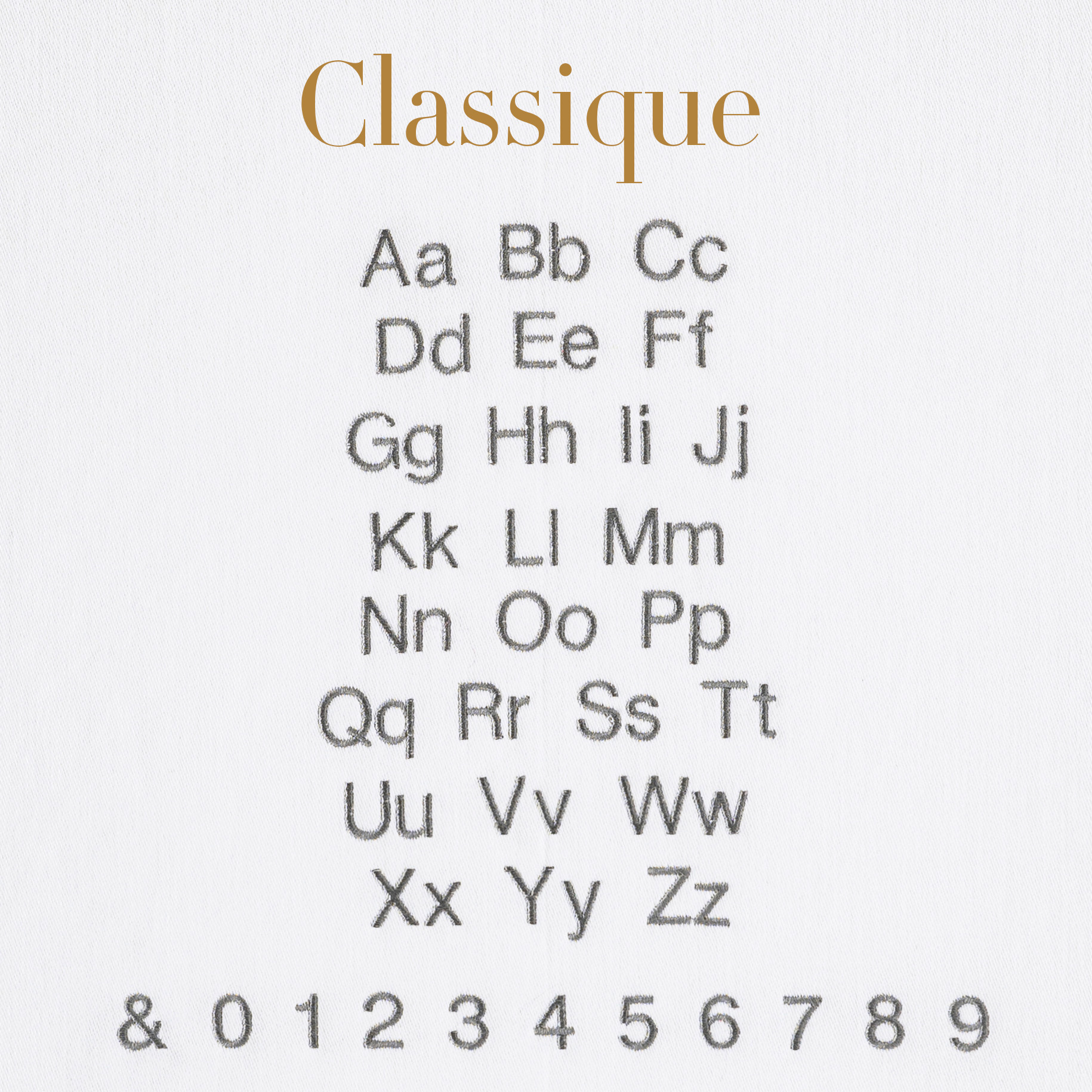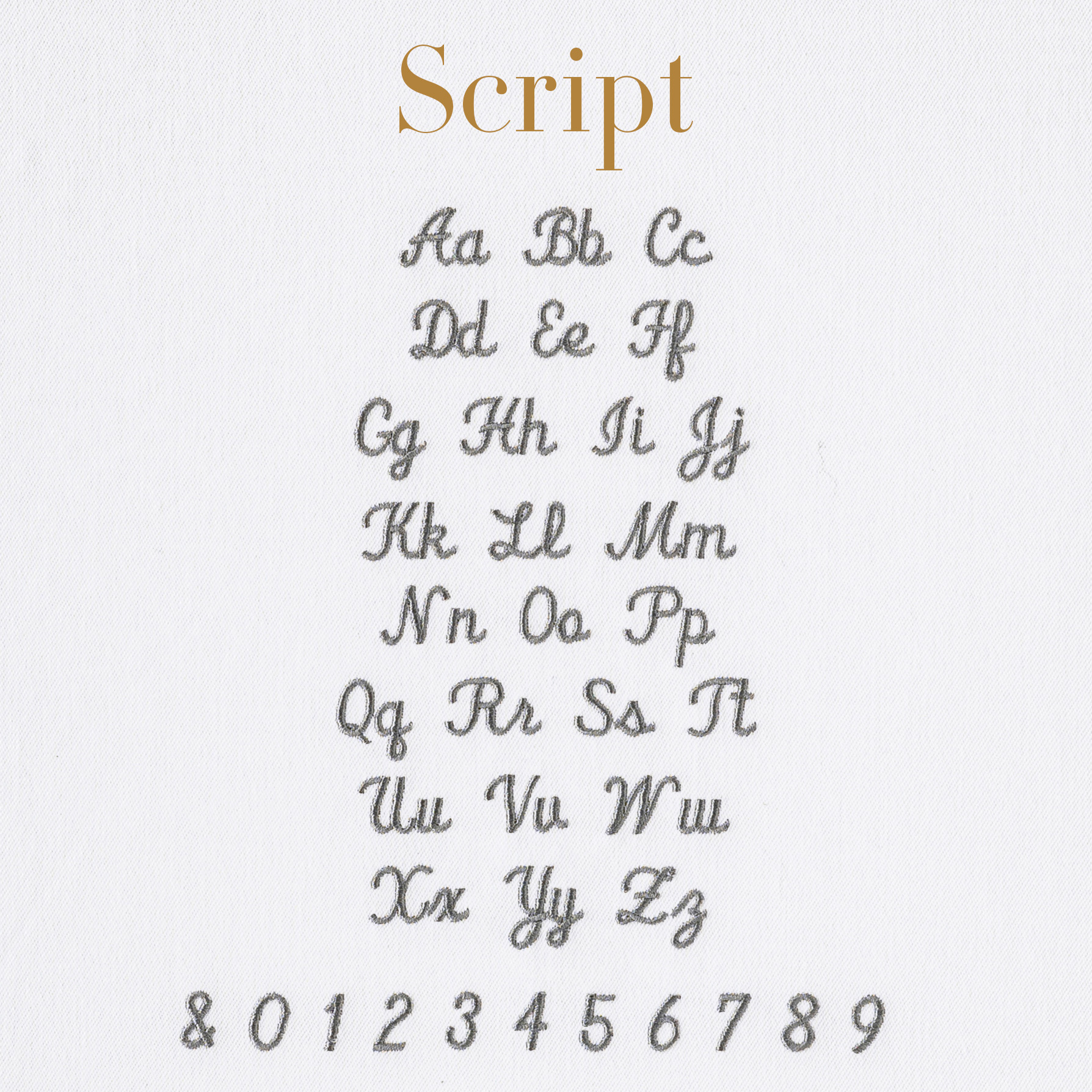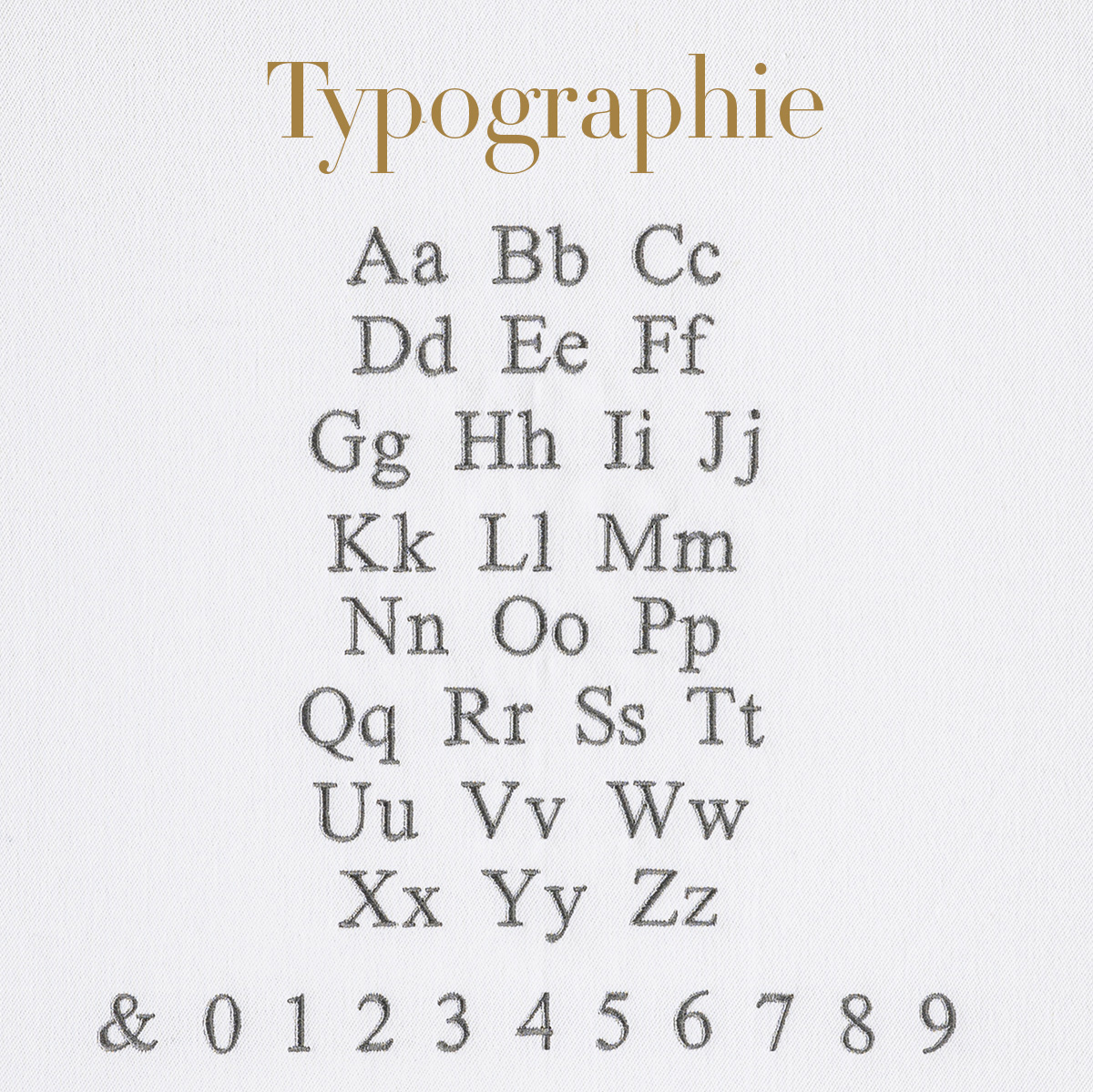 Where can the embroidery be placed ?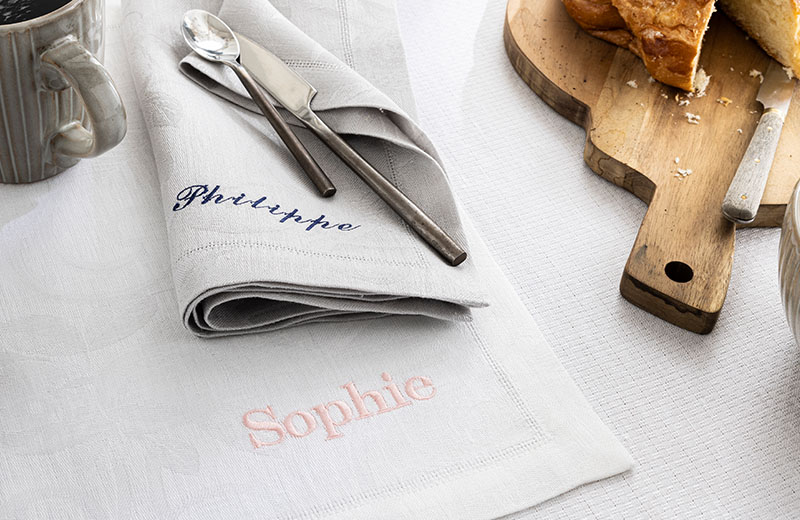 Napkins and placemats:Embroider your napkins or placemats in the center or in the right corner to make them ideal placemats!
Tablecloths: What could be more elegant than a monogrammed embroidered tablecloth? Placed in the corner of the tablecloth or at the edge for round tablecloths, this personalization is perfect for your reception dinners.

Bathrobes: Add a personal touch to your bathrobe by embroidering a first name, date or initials on the chest.

Towels: Stop mixing up your towels by adding the first name of each family member. Our embroideries can be placed on the bottom edge of our towels, either centered or on the right side.
Bath Mats:For a bathroom worthy of the greatest hotels, have your bath mat embroidered in the center on all our collections!
Beach towels:Our honeycomb beach towels also have their embroidery placed 5 cm from the edge.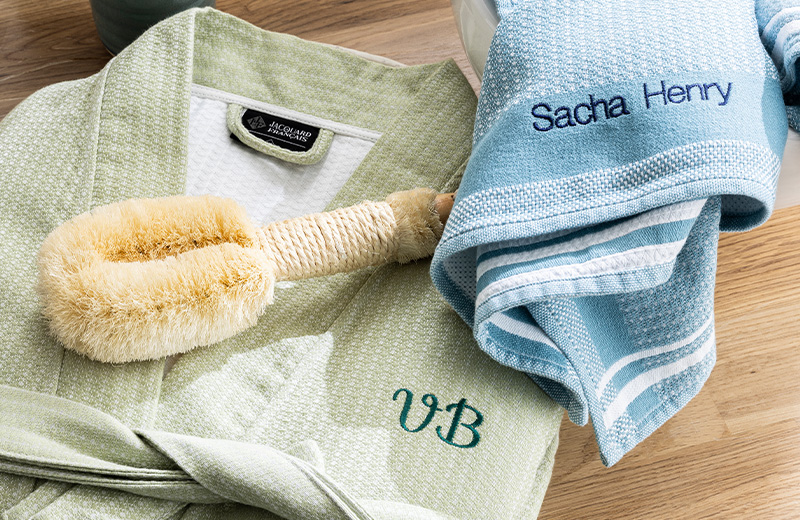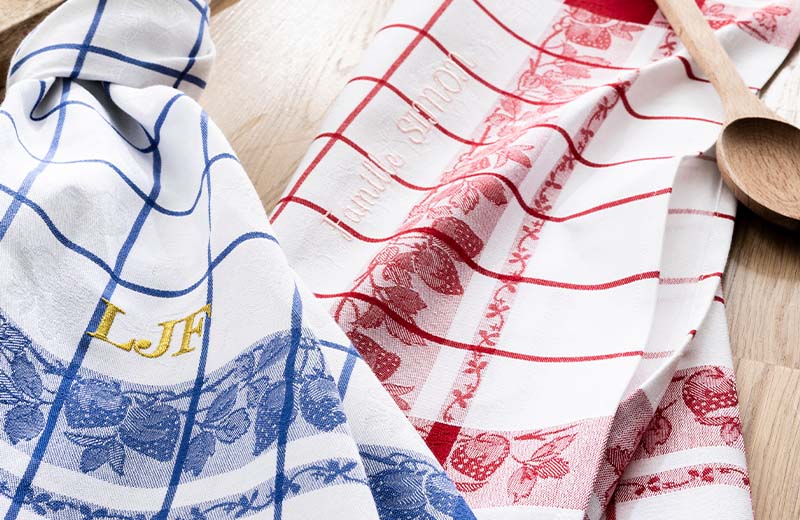 Aprons: Like a chef, personalize your apron with an embroidery centered on the bib.
Tea towel and hand towels:Our iconic dishcloths and hand towels can also be personalized with a discreet embroidery centered on the bottom of the product.
Personalization made in Gérardmer
To perpetuate the tradition of embroidered linens, we have integrated an embroidery workshop in our Gerardmer factory. Under the expert hands of our embroiderer, your names and messages will come to life and make your linen unique.
And to guarantee you an aesthetic result, we offer you embroidery locations adapted to each product. The size of each embroidery is also adapted to the type of product and each location.
We have chosen a selection of colored threads that match the richness of the colors of our products for contrasting or tone on tone embroidery.