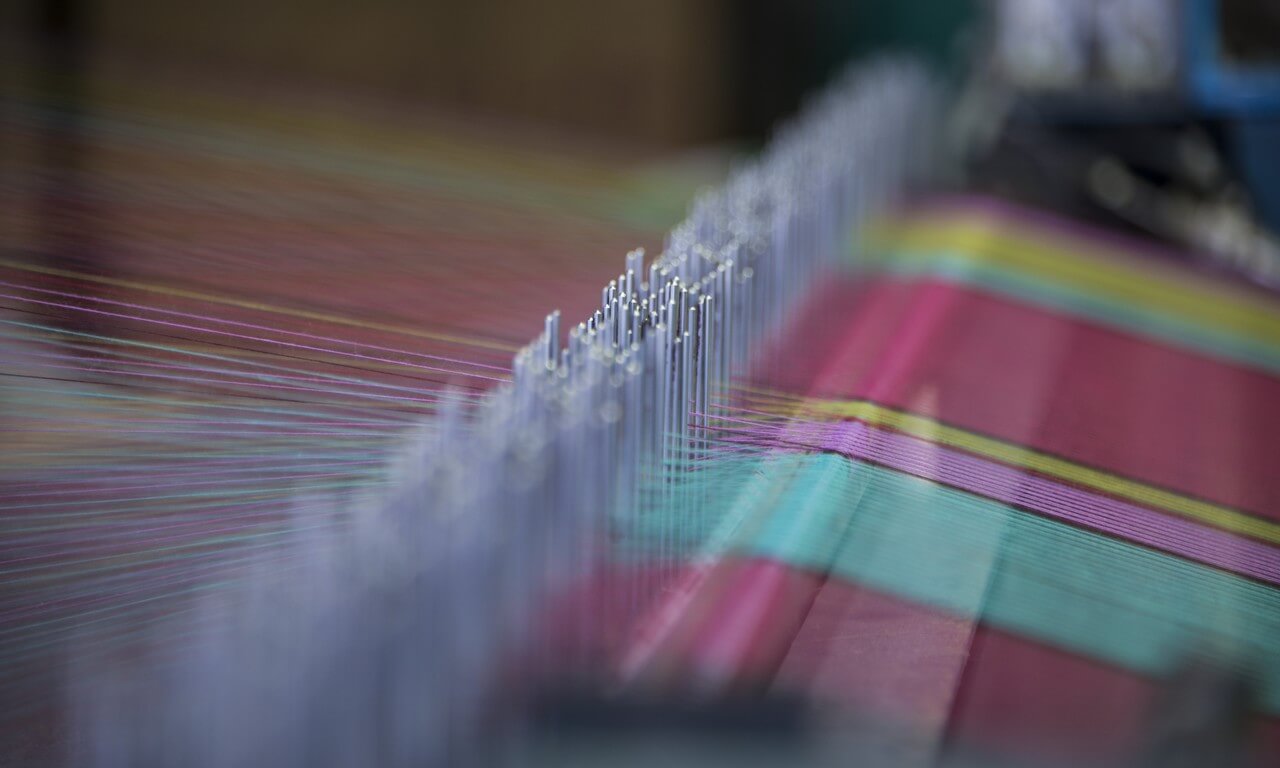 THE ART OF WEAVING
From spooling the fibre to final construction, weaving and finishing, this eight-step expertise requires precise technique and an infinite sense of detail to produce the most beautiful creations.

For over 130 years, we have been committed to the artful preservation of the technique of jacquard weaving in France. Invented in the 19th century by Joseph-Marie Jacquard, it automates the weaving of a damask fabric. "Damask" is a fabric whose designs are visible on both the front and the back.

Today, thanks to our 54 Jacquard looms, the House produces a very large number of original patterns, with remarkable precision and finesse.

In 2010, Le Jacquard Français was awarded the EPV (Living Heritage Enterprise) certification for its excellence in craftsmanship and industry, something of which our teams remain very proud.
EXCEPTIONAL MATERIALS
You can't make exceptional products without exceptional raw materials!
We use almost exclusively natural materials and select the finest quality fibres.

OurMasters of Linencertified cotton and linen thread, are made with the longest fibres, which are rarer and of better quality, allowing for more intense colours. These fin, combed threads give our patterns an incomparable shine and precision.

More than 40 colours are developed every year. Each thread colour is tested against light and UV rays to meet our quality standards. The colours and designs of our fabrics remain bright year after year.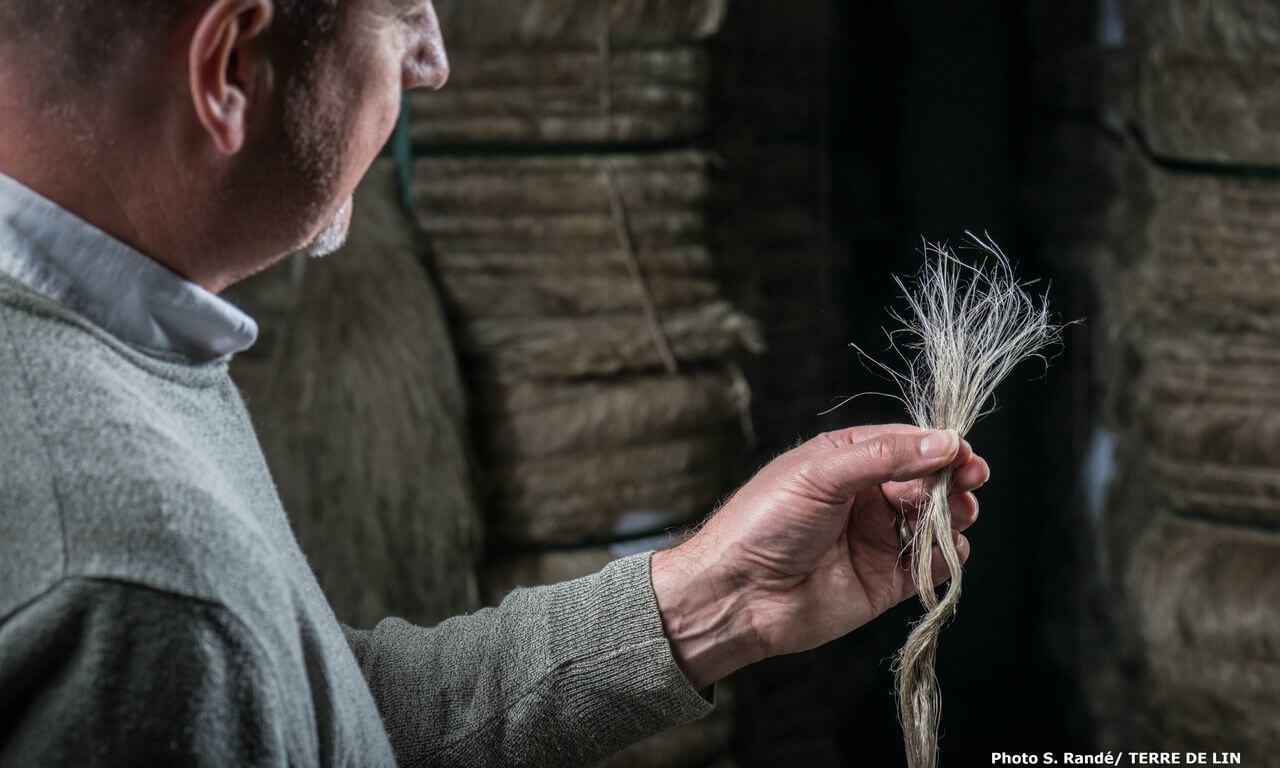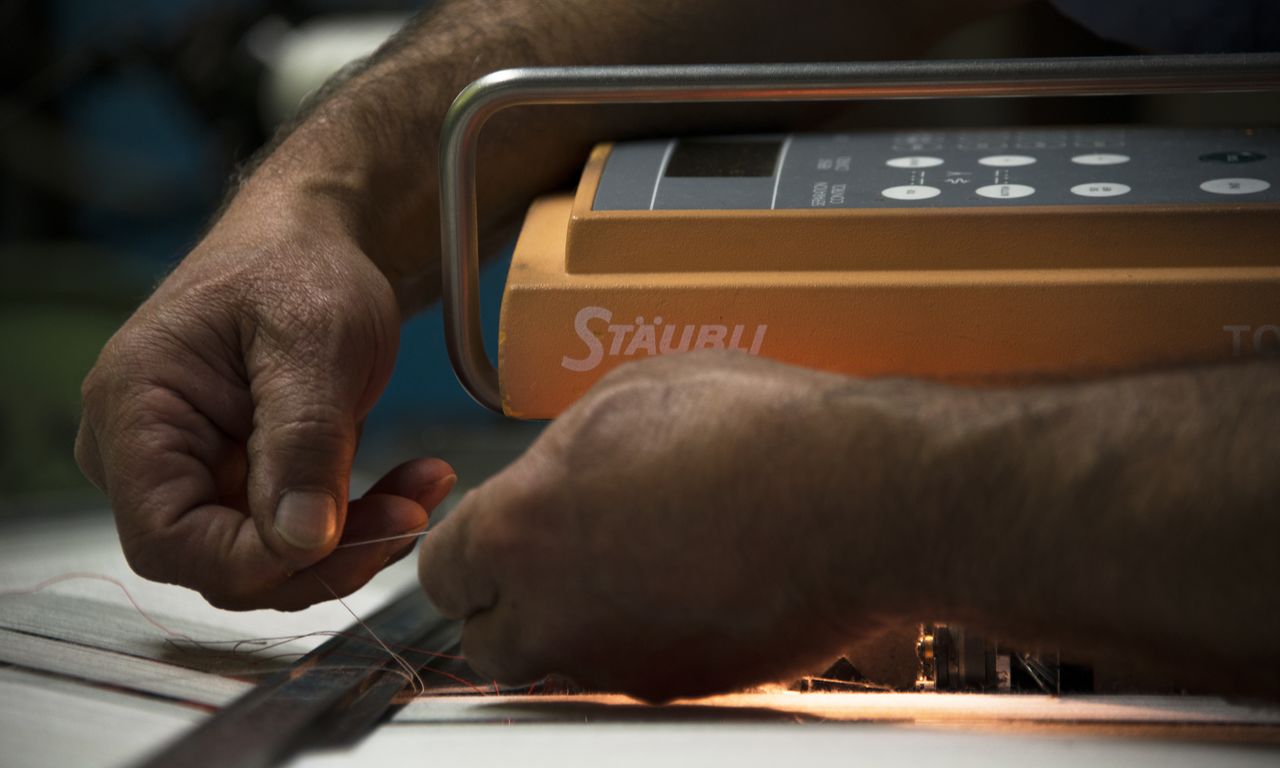 GOLDEN HANDS
Weavers, knotters, warpers, bonders...all these crafts and techniques are carried out with passion and have been for generations in our Gerardmer factory.
It is this community of talent that has helped to build our House, recognised worldwide for its quality and creativity. Gold hands which allow us to continue to manufacture quality products in France

EIn order to evolve and meet the needs of to new consumers, our teams combine technological innovation with ancestral expertise as they work on our collections, inventing new manufacturing processes, using new fibres and new materials to design ever more functional and attractive products.
CRÉATIONS ANDT INSPIRATIONS
Warm and generous, our collections are rich in colour, joyful and shimmering. They are an invitation to travel, to tell a story, evoke a memory, express a desire, and they help create the soul and spirit of your home.

Every year, our design team produces two collections, featuring new models and new colour combinations inspired by the seasons and trends.

The fruit of encounters and shared expertise, Le Jacquard Français also offers unique collaborations with companies that share our values and our vision of the French lifestyle, such as the Haute Couture and Venezia Cristal collections with Swarovski crystals, La Cornue and Le Slip Français.