Points of sale, new collections, collaborations, innovations...don't miss any of the events that make the news of our house!
Tablecloths, bathrobes, napkins... personalize your linens with Le Jacquard Français!
Under the expert hands of our embroiderer, your names and messages will come to life and make your linen unique.
Positive Company® Certification
Le Jacquard Français is proud to announce that it has obtained the Positive Company® certification.
This certification gives us the highest level of recognition for our CSR commitments!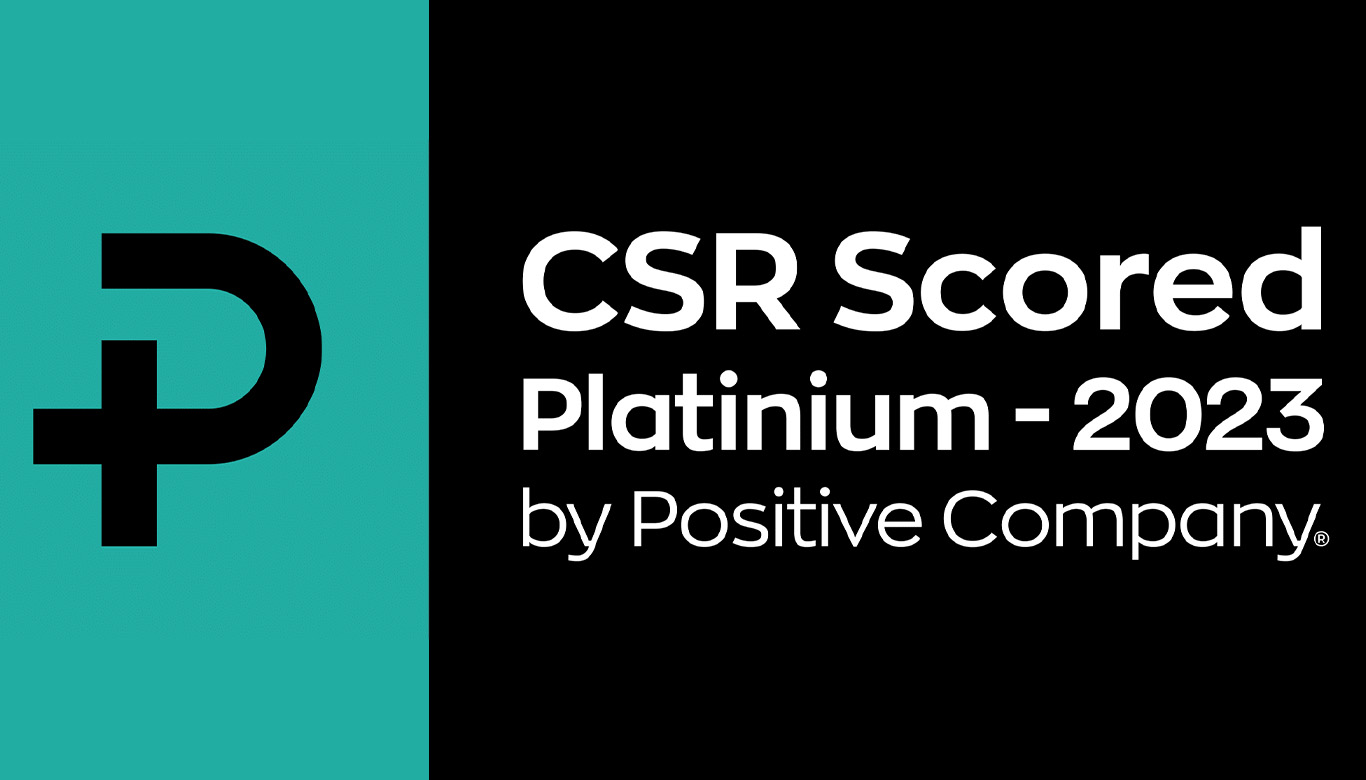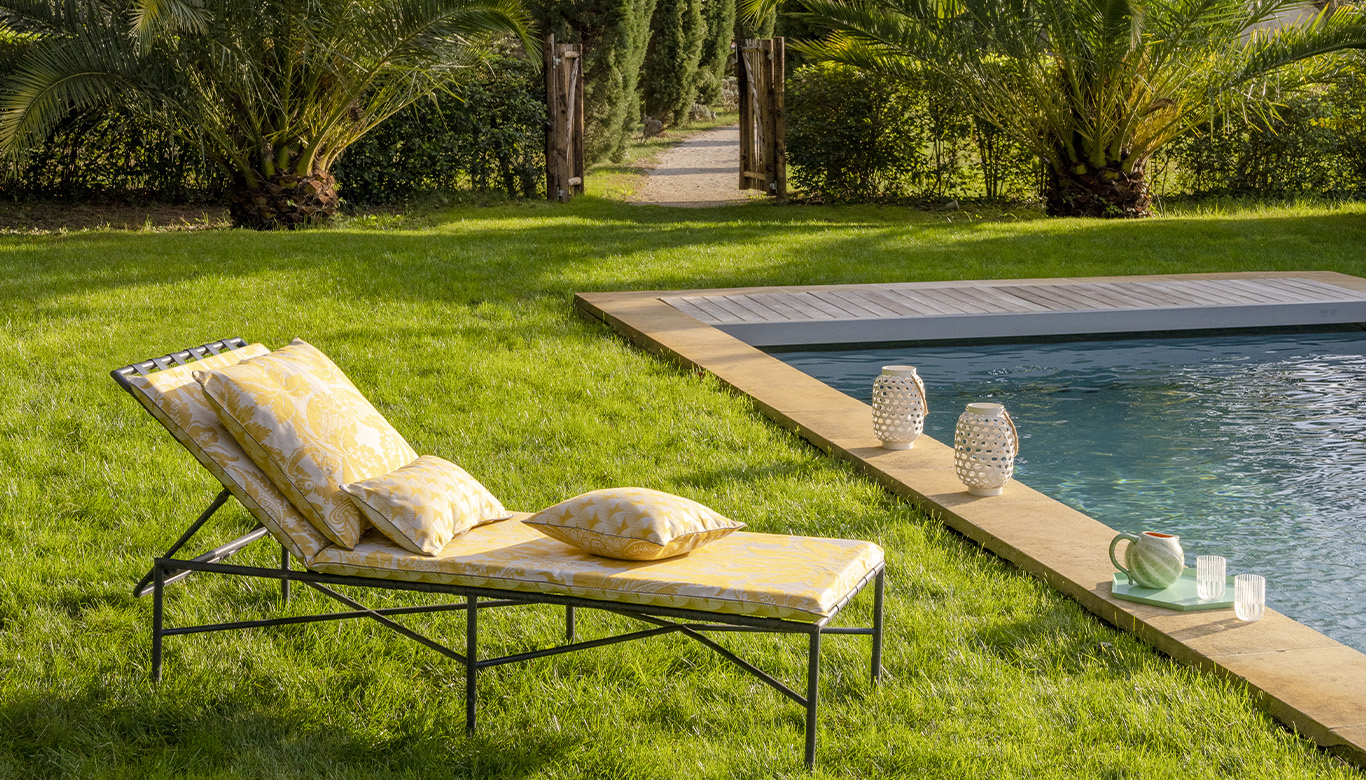 The days are getting longer and the sun is more and more present, spring is here!
Le Jacquard Français also enhances your exterior with outdoor collections woven in France. This season, discover a range of cushion covers, poufs and sunbathing mattresses in vibrant and bright colors that will accompany you for your relaxing breaks.
Spring-Summer 2023 collection
Our collections are renewed season after season to offer you the essentials of the moment, new colors as well as new timeless pieces.
For this spring-summer 2023, the color palette is subtle and the patterns, sublimated by our know-how, are transformed into engraving.
You will discover among these novelties the iconic Voyage collection, with summer colors that will make your interior travel; the timeless Portofino collection revisited with a fiori pattern or the very trendy Essentiel collection with tones in the air of time and authentic.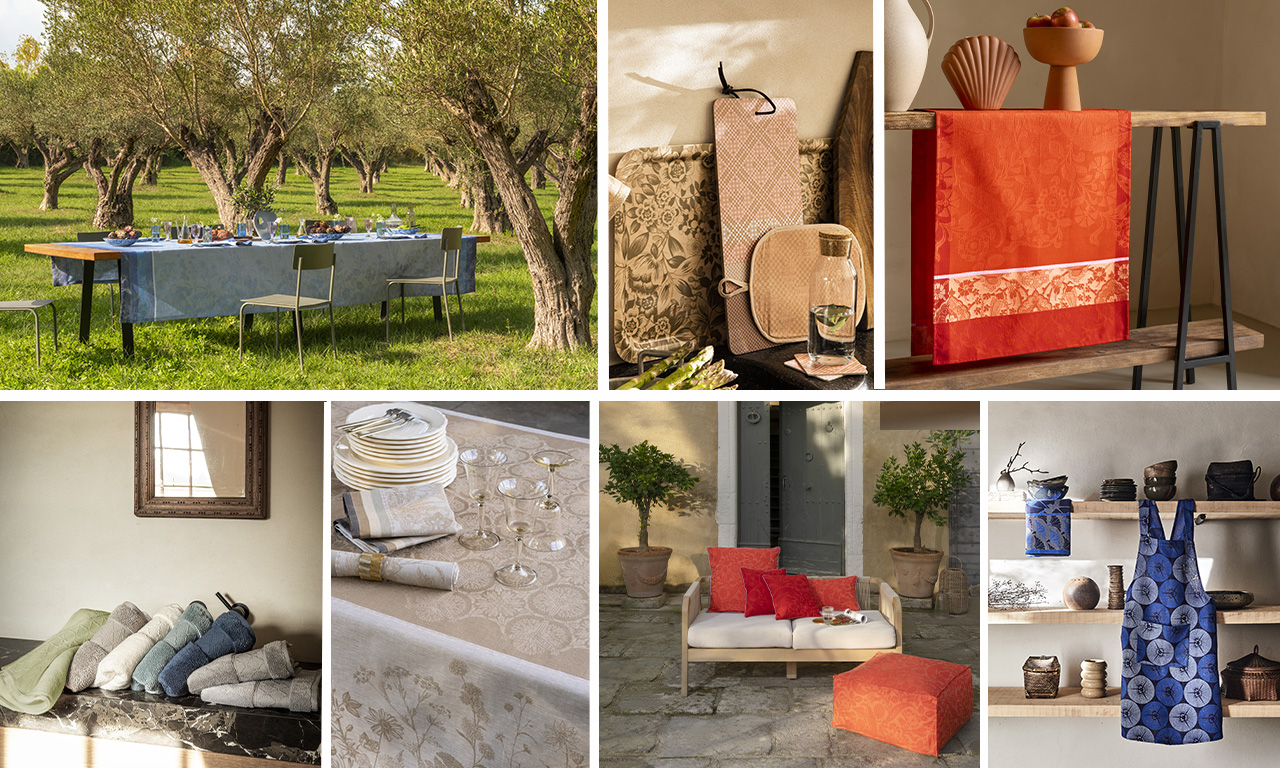 Tea towel Calendrier 2023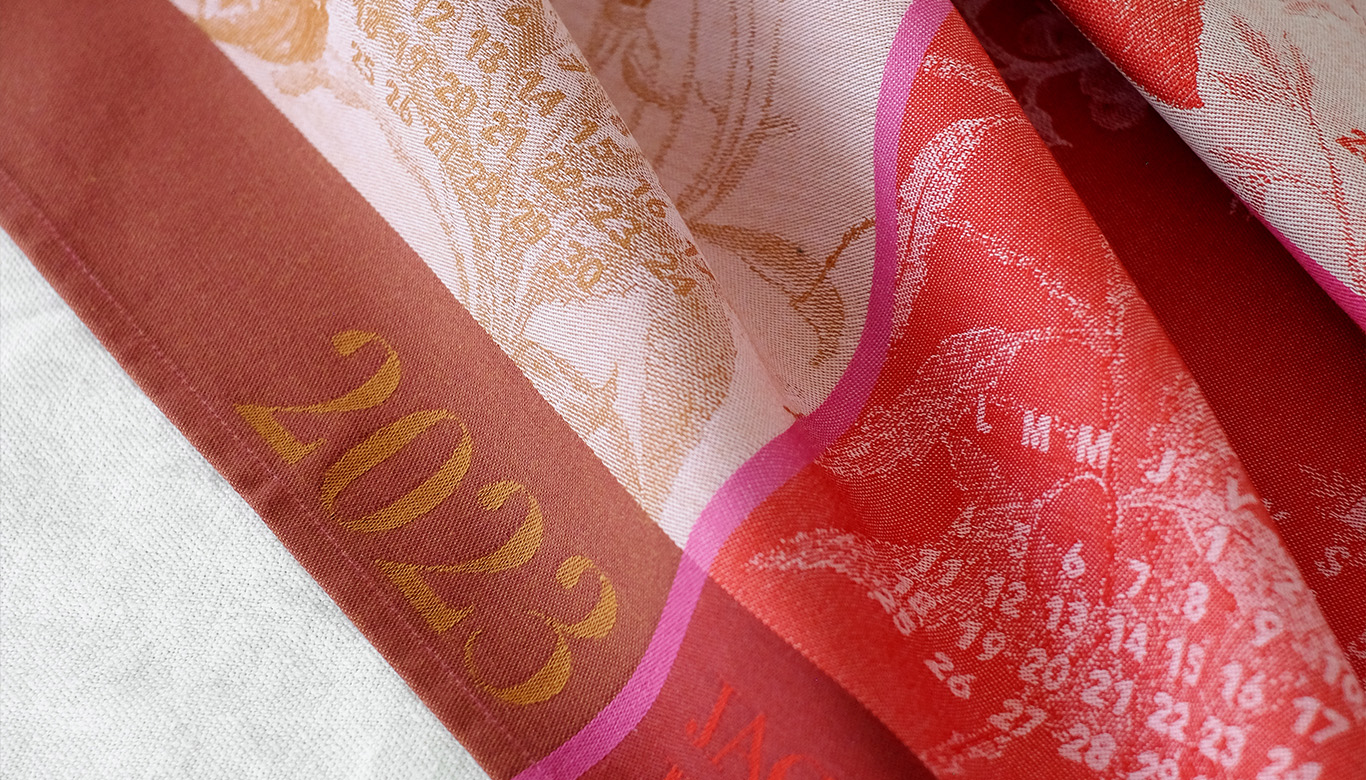 Prepare for the new year with our 2023 calendar tea towel! Fall in love with this iconic tea towel to offer or to collect, which will punctuate each moment of your year in the kitchen!
Ideas for a magical christmas table!
At Le Jacquard Français, we are always on the lookout for the latest trends in terms of styles, colours and table decorations to help you enjoy unique moments of sharing.
Christmas is approaching and you can't wait to welcome your guests and spend some warm moments? Then it's time to turn on the stars and invite the magic to your table! Let your imagination run wild with our tablecloths, napkins, placemats and table runners that are sure to brighten up your festive dinner!
Follow the major trends with us!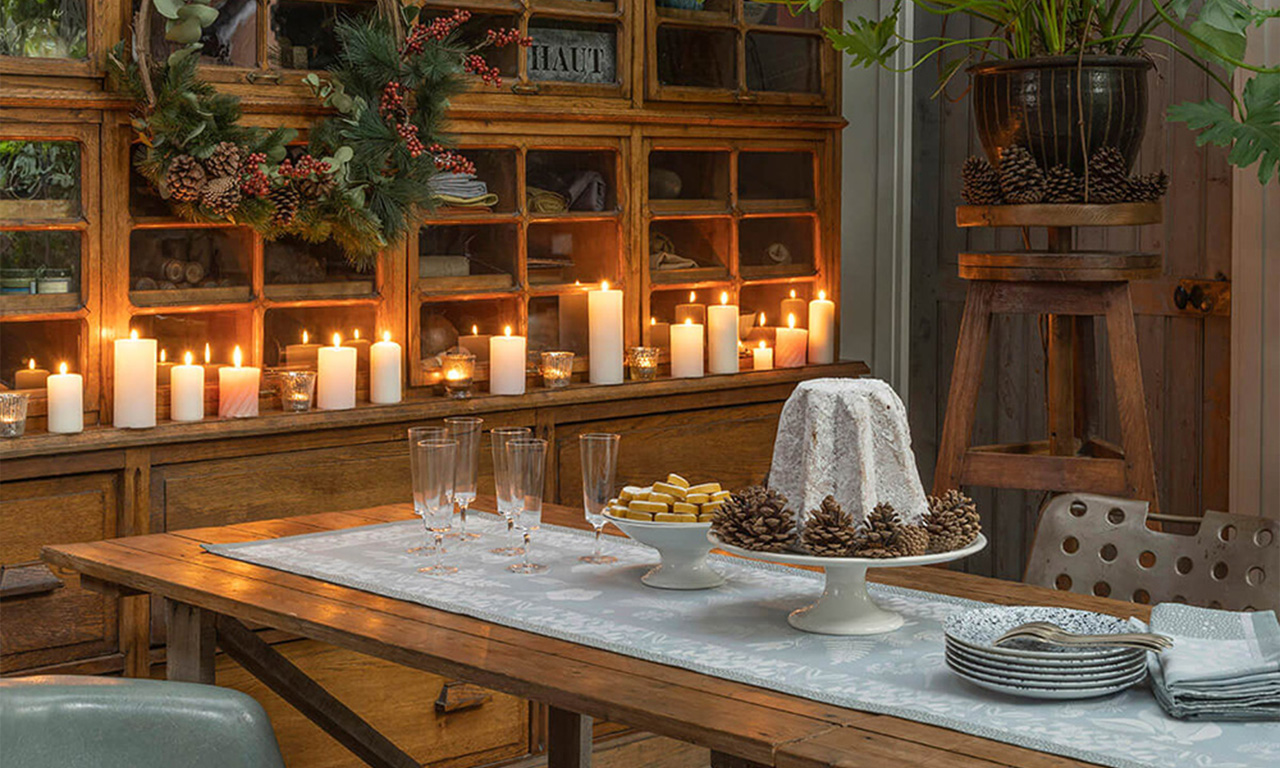 Volière collection X Quinsaï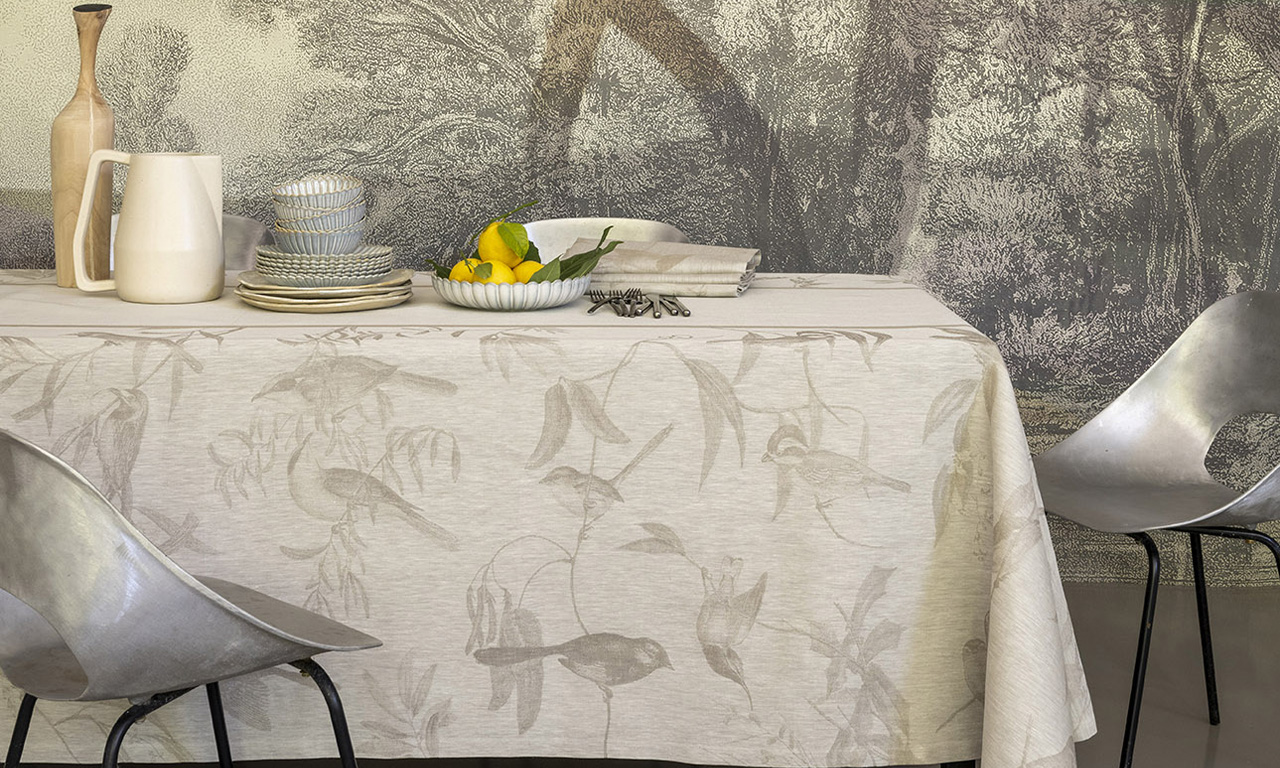 Like an evidence, the collaboration QUINSAI x LE JACQUARD FRANÇAIS, is a bridge between interior decoration and table art. The same region, the same elegant style, the same desire for a sumptuous and refined decoration unites these two houses. The spectacular and meticulous designs of Quinsaï are combined with the delicate and fine weaving skills of our House. From this unique collaboration comes a sophisticated and spectacular 100% linen collection, Volière. It shows a peaceful and harmonious complicity between vegetation and birds.
Fall-Winter 2022 collection
Once again, our new collection links modernity and timelessness through collections of table linens, kitchen linens and textile decorations with assumed colors revealing all the precision of our jacquard weaving made in France in our Vosges factory. Between classics revisited in contemporary tones and exceptional collaborations with the architect Jean-Michel Wilmotte or with the wallpaper brand Quinsaï, the fall-winter collection will bring a trendy touch to your interior.)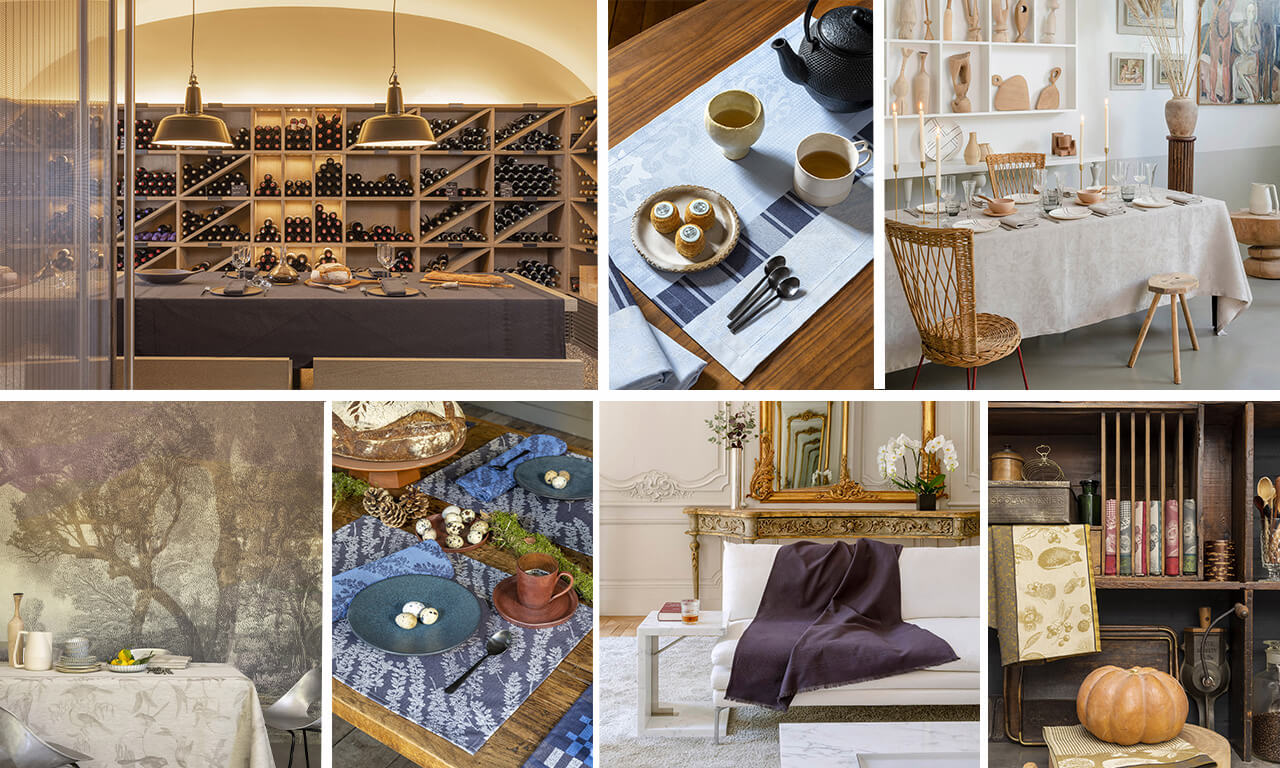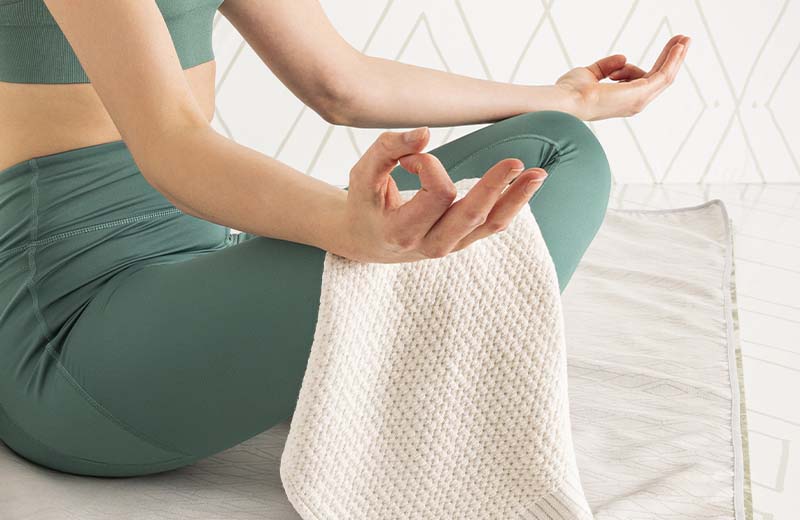 New this early summer, discover our two new eco-designed sports accessory lines, with natural materials. Practical products, developed to last and to bring you comfort and hygiene thanks to the Smartcel™ fiber. A version with a graphic and elegant style GAME or a refined and zen line with SHALA, everyone will find the ideal training companion!
Gender Equality Index
For companies with less than 250 employees, the gender equality index is based on four indicators:
1. Gender pay gap
2. Proportion of women and men who have been promoted
3. The percentage of women who received a raise after returning from maternity leave
4. The number of women and men among the company's 10 highest earners
The rating for Le Jacquard Français as of December 31, 2021 is: 86/100
The points obtained are distributed as follows:
Pay gap (score out of 40): 31
Proportion of men and women who have received a raise (score out of 35): 35
Percentage of women receiving a raise after returning from maternity leave (score out of 15): 15
Number of women and men among the 10 highest paid (score out of 10): 5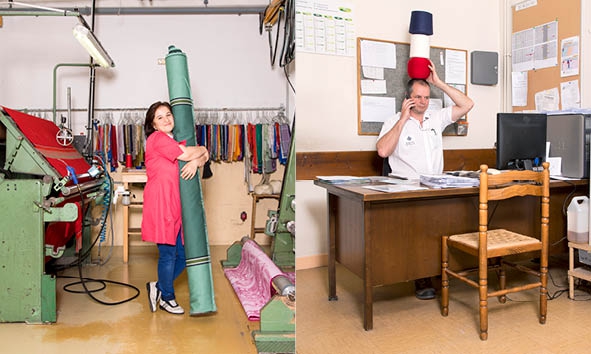 The recipes of @CLAIREAUMATCHA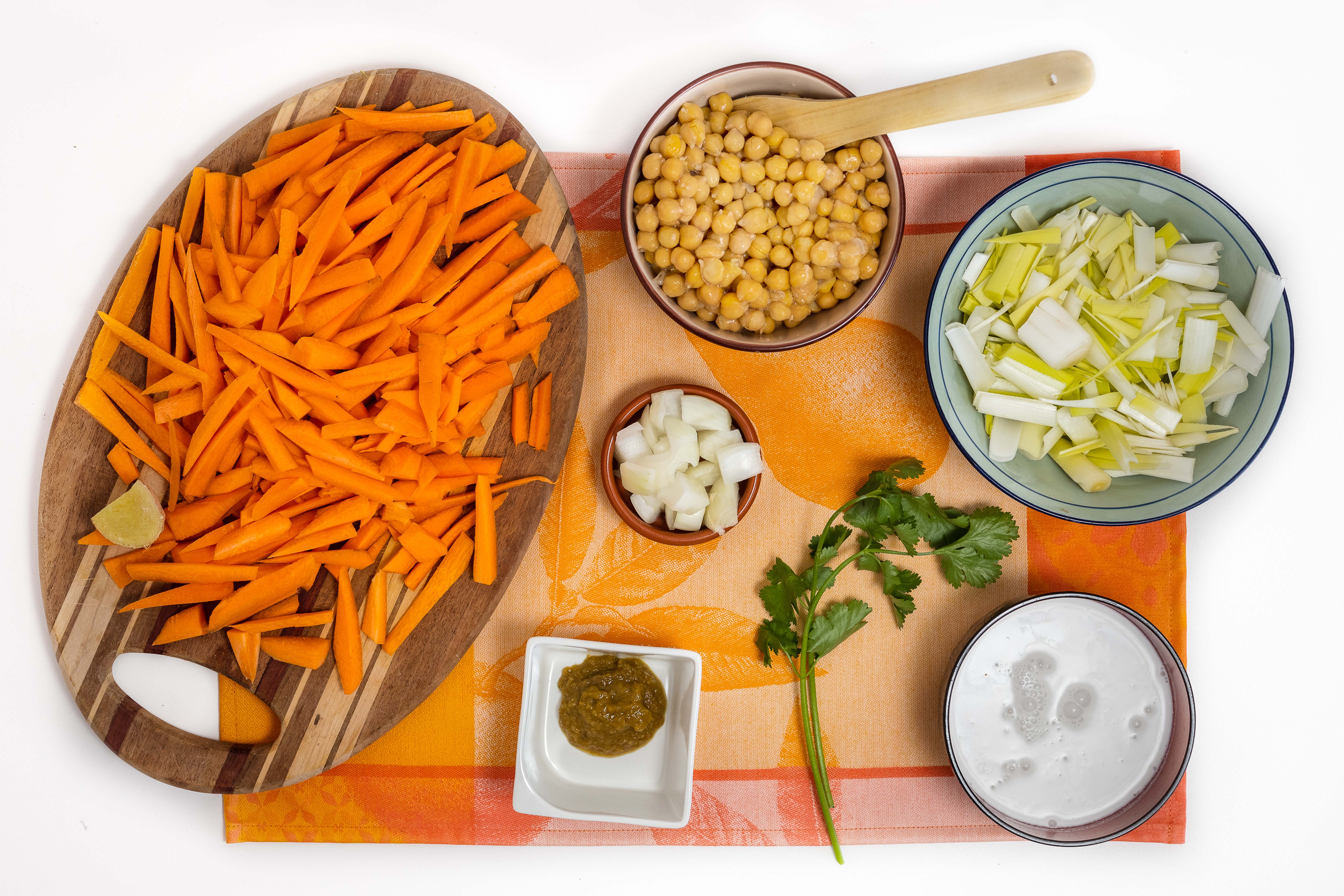 Since a beautiful table is nothing without a good meal, we have teamed up with blogger and nutritionist @claireaumatch to offer you creative and seasonal recipes that will delight your taste buds and those of your guests. Chickpea curry with vegetables, cauliflower semolina with spices, Pavlova with fruit... discover a new sweet or savory recipe every month!
Sprinf-Summer 2022 collection
This year again, Le Jacquard Français innovates to adapt to the evolution of the art of living and entertaining. You will discover among our numerous novelties, Portofino Pluriel which will metamorphose according to the number of guests.
Because the subject of eco-responsibility is now at the heart of consumer concerns, we have redoubled our efforts this season to provide innovative and trendy solutions by offering you, in our range of beauty linens, the Argile collection made of GOTS cotton and vegetable dye, which is as gentle on our environment as it is on our skin.
Our new products will also answer to your desires to escape around the world; perfect gift ideas, to please yourself and others.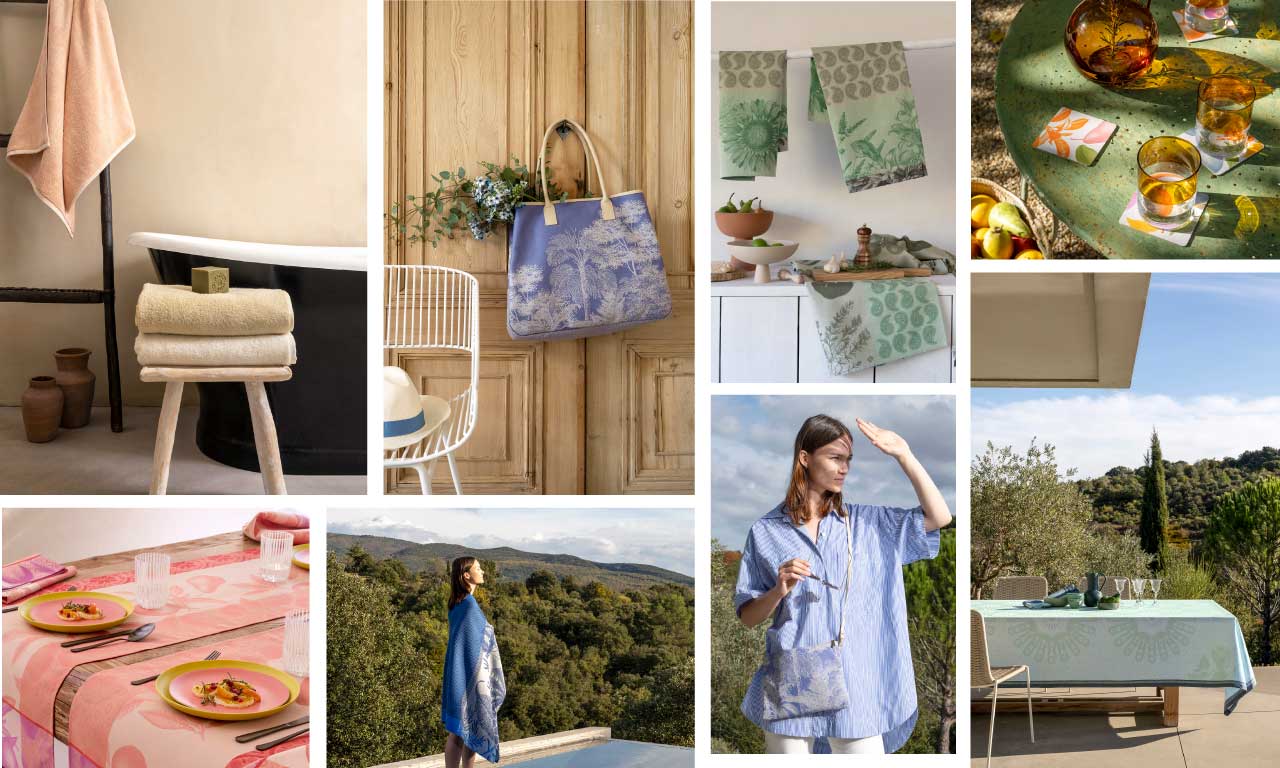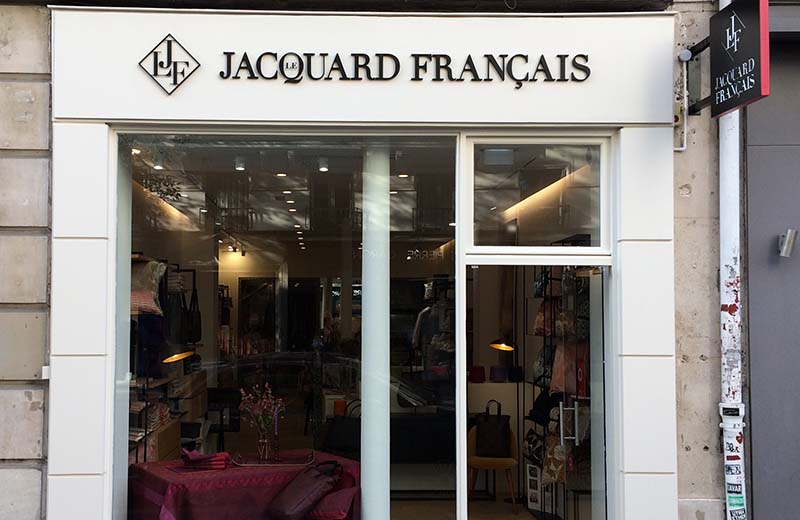 We give you an appointment on October 8 to discover our new store in the Marais district in Paris! An offer centered on decoration and gift ideas to please and be pleased.

39 rue des archives - 75004 Paris
Monday: 1pm-7pm
Tuesday-Saturday: 11am-7pm
Sunday: 11:30am-6:30pm