WHAT IF YOU SWITCH TO HONEYCOM BATH TOWEL?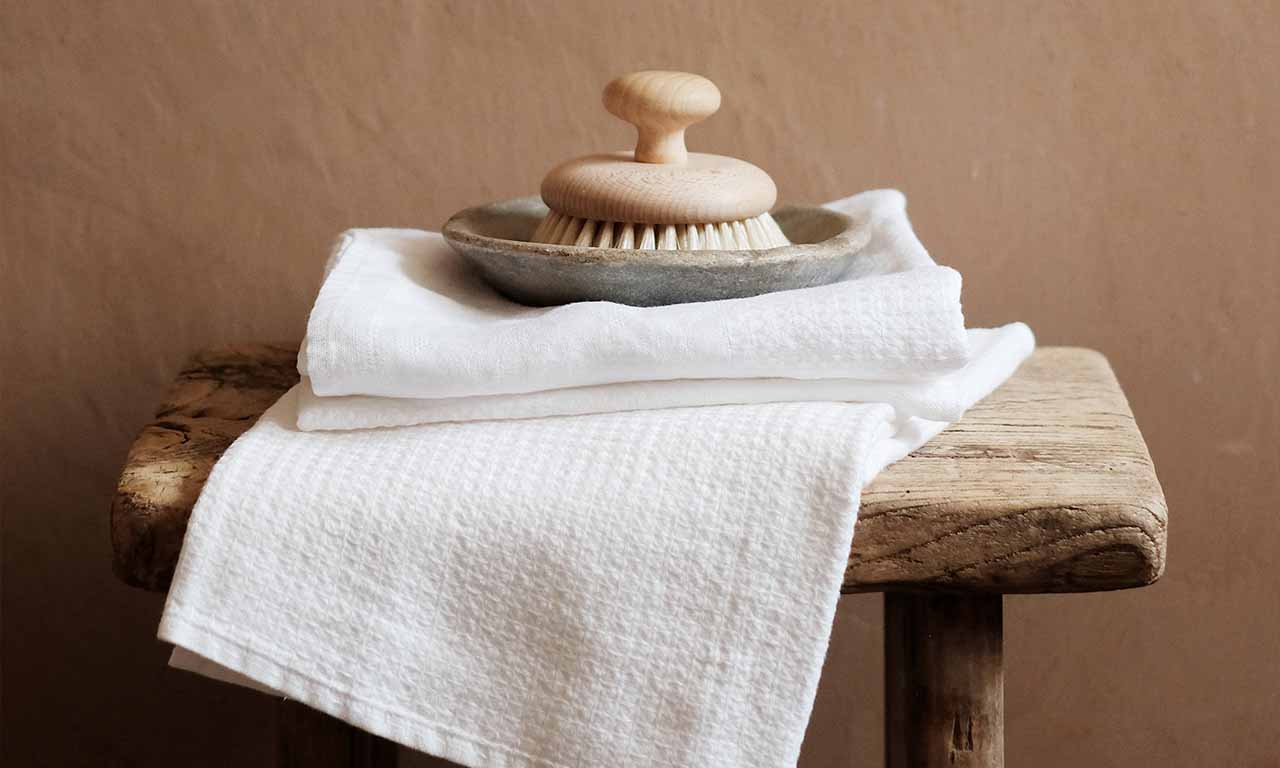 Honeycomb bath towels: lightness and absorption
What if the linen of our grandmothers took back its place in our bathroom? As light as they are absorbent, honeycomb towels are an alternative to terry towels that you won't be able to do without!

Using an ancestral technique of weaving in relief, the honeycomb is a material known for its great absorbency. Its honeycomb structure swells after a first wash and reveals all its absorption capacity. According to the Textile de Cambrésis laboratory*, the simple honeycomb, despite its thinness, absorbs as much as a terry towel which is thicker. It also has the particularity to be very light (about 200g/m² against 550g/m² for our terrycloth collections).

This weaving also gives it a great lightness which allows it to dry in a wink. Delicate and elegant, the honeycomb wraps you in softness after a bath or a swim in the sea.
The ally of small spaces
The nature of the honeycomb, compact and light even in large sizes, makes it an ally of choice for small spaces; Folded, it is very small and can be stored in your closets without taking up space.
As a beach towel, it rolls up and slips easily into a bag or suitcase to follow you everywhere.
Bath sheets and bathrobes woven in France
At Le Jacquard Français, all our collections of honeycomb bath and beach linens are woven in France, on one of our "jacquard" looms in our Gérardmer factory. We choose a mixture of weaves to give our towels a honeycombed and voluminous aspect while preserving the fineness of the weaving.
Manufacturing process
Because the touch is essential, everything starts with the choice of materials: 100% natural fibers with exceptional softness. Most often made of cotton, we have also developed a collection in 100% linen (certified Masters of linen) which combines the properties of honeycomb weaving with the nobility and robustness of this exceptional material.
Then comes the weaving stage, where our know-how is combined with the creativity of our designers to create elegant bath linens while preserving the embossed pattern that brings all these virtues to the towels.
The quality of our weaving and our finishes guarantee that your towels will hold up impeccably over the course of several washes, making them even softer.