Since a beautiful table is nothing without a good meal, we have teamed up with @claireaumatch to offer you creative and seasonal recipes that will delight your taste buds and those of your guests!
Cauliflower Semolina with Spices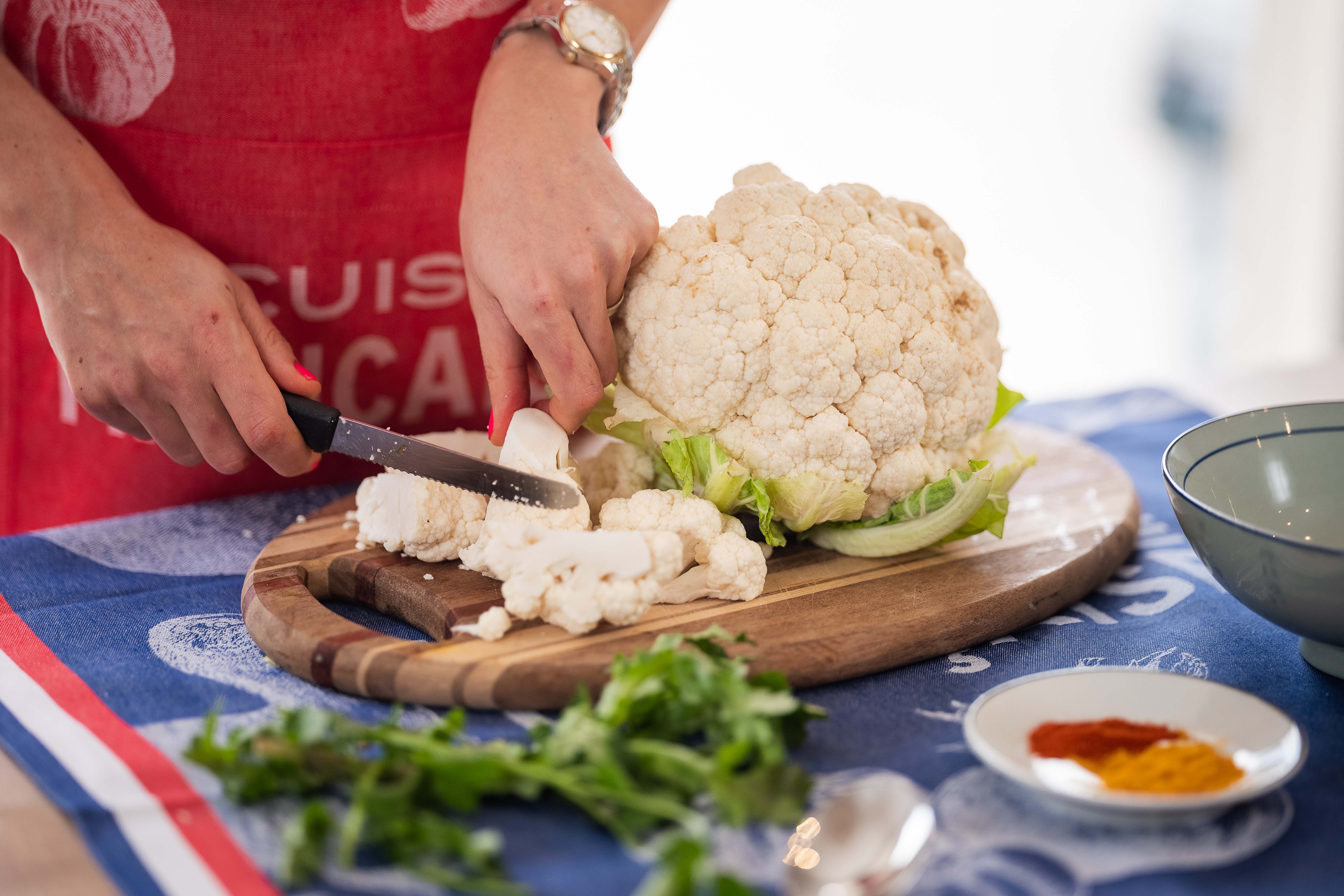 Ingredients for 4 persons
The florets of a nice cauliflower
1 tablespoon of coconut oil or olive oil
A nice pinch of turmeric
A small pinch of paprika
3 small spring onions, finely chopped
preparation
Place the cauliflower florets, cut into small pieces, in the bowl of the blender fitted with the blade and press Pulse several times. Pulse several times to obtain a semolina-like texture, but not too many times to avoid turning it into a puree. Ideally, you should not put all the cauliflower in at once, but rather proceed in several stages, removing the semolina already formed from the blender each time.

You can also use a manual grater if you do not have a food processor.
Heat a frying pan on medium / high heat and melt a tablespoon of coconut or olive oil then add the semolina obtained, the spices and make return about ten minutes while stirring regularly. It must brown a little. Add salt and pepper. Set aside. Just before serving, off the heat, add the finely sliced spring onions and mix.

This semolina can be kept in the fridge for a week without any problem, without the spring onions, and can be easily reheated in the microwave.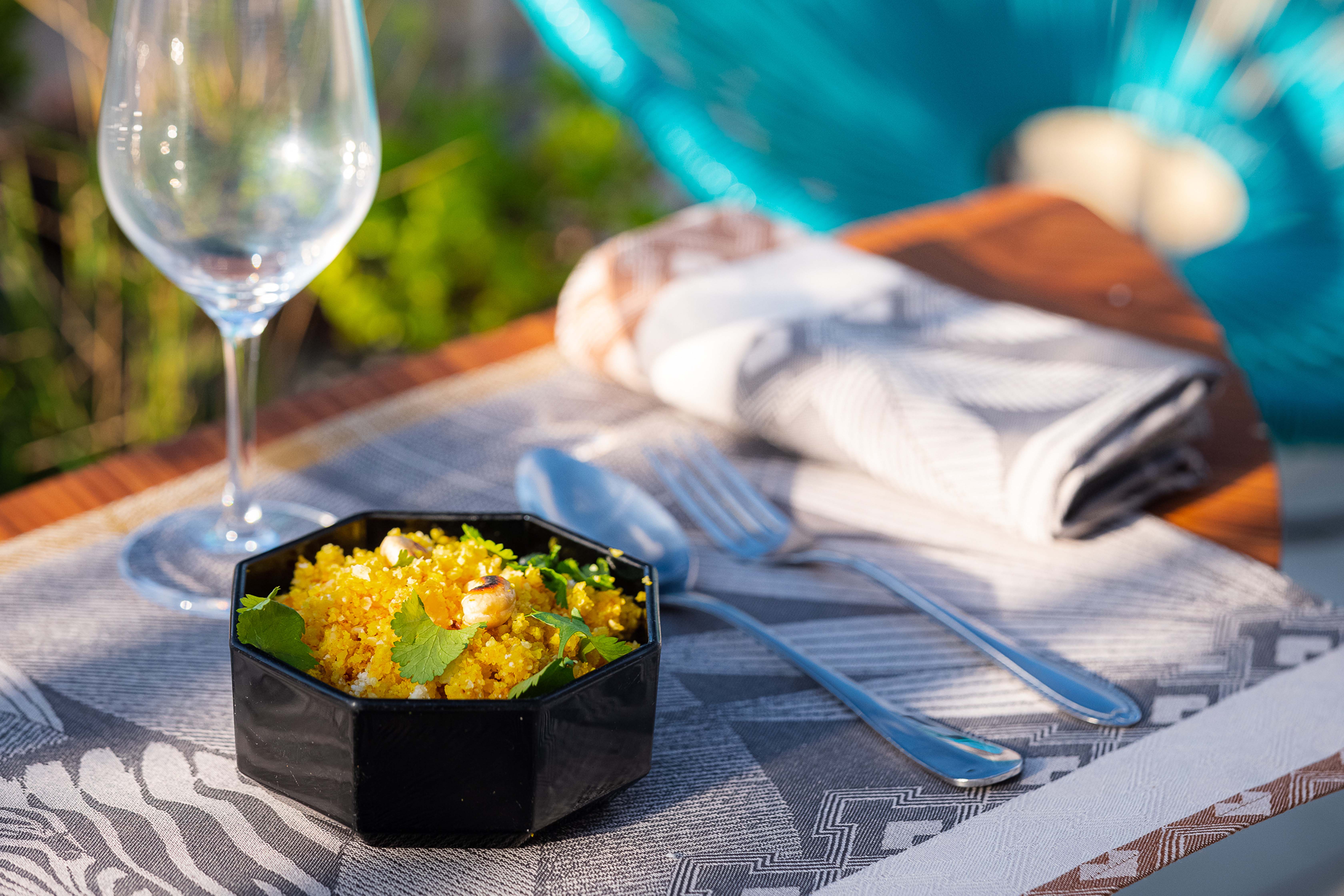 for about 20 crackers
15g of sesame seeds*, coarsely chopped
15g coarsely chopped pumpkin seeds* (if using)
15g oat flakes
15g flaxseeds*, coarsely chopped
10g of chia seeds*, coarsely chopped
65g wholemeal or semi wholemeal spelt flour* or semi wholemeal wheat flour
1 nice teaspoon of baking powder
1 pinch of paprika or other spice of your choice
1 pinch of salt
70g of water
35g of good quality extra virgin olive oil
Note*: Depending on the ingredients available, change the seeds and the type of flour, keeping the same proportions.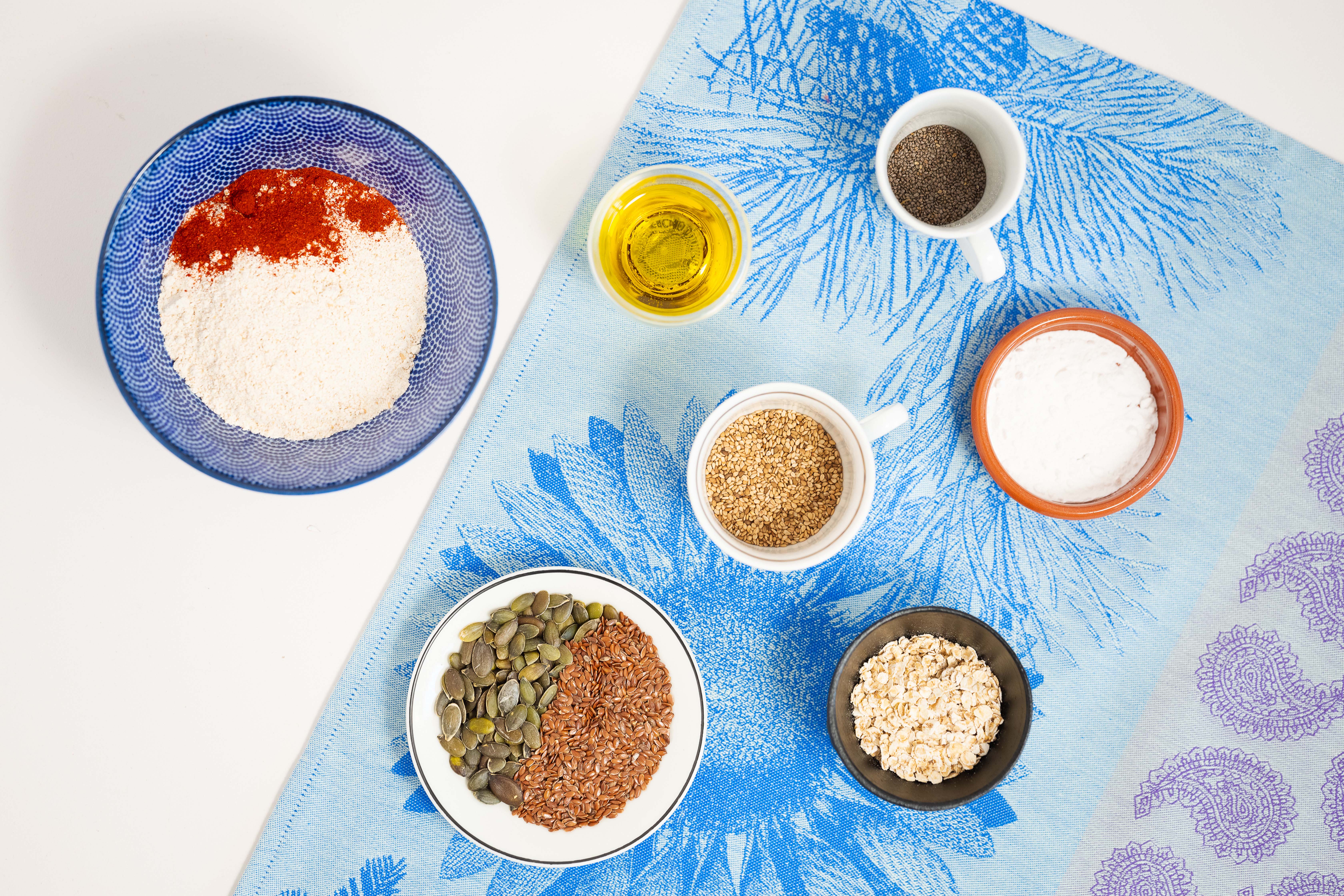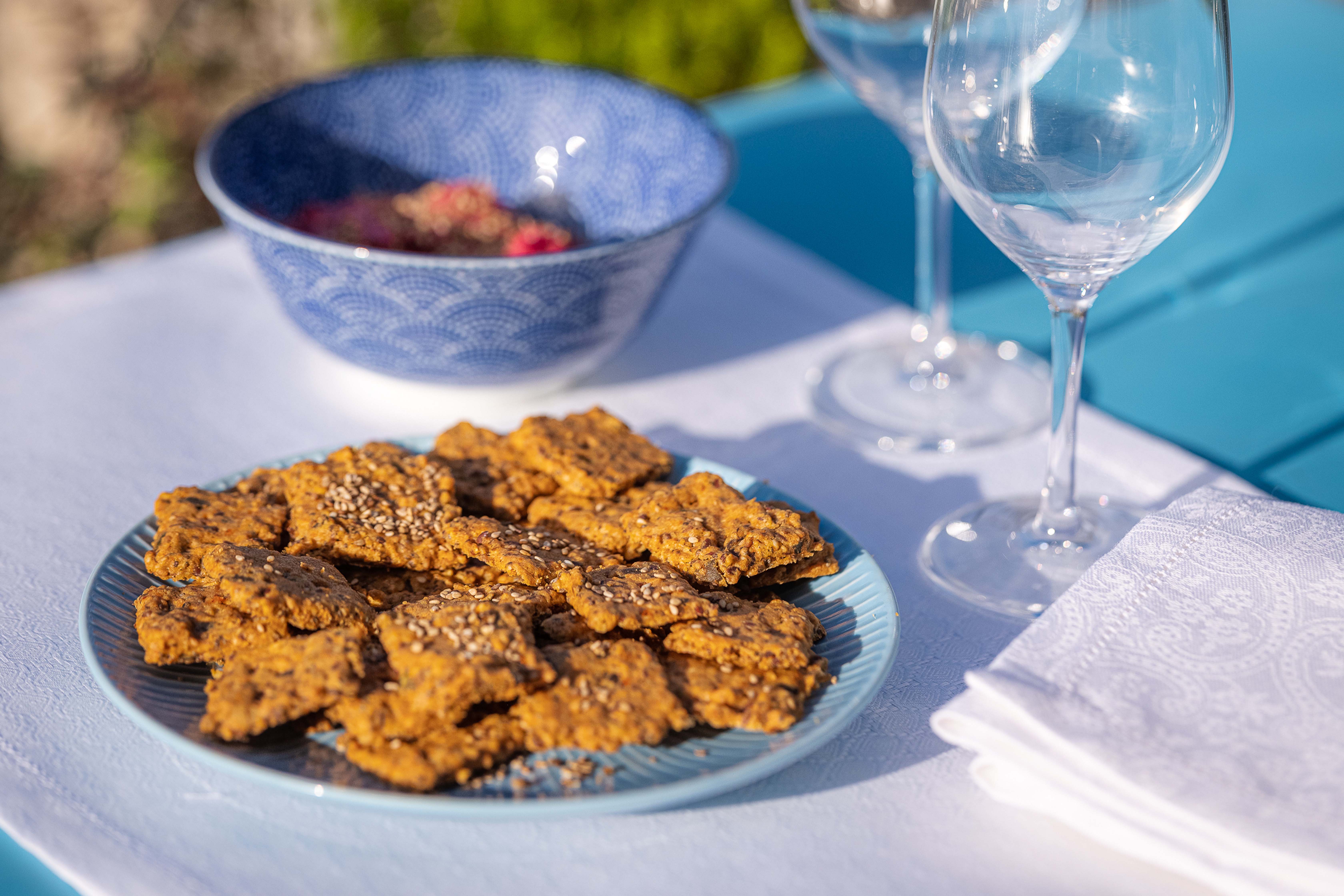 preparation
Preheat oven to 180°C
Mix all the ingredients in order in a bowl with a tablespoon to obtain a homogeneous preparation.
Roll out fairly thinly with a rolling pin between 2 sheets of silicone or parchment paper. The dough is very sticky, that's normal!
Place it on an ovenproof tray, leaving the parchment paper underneath.
Cut squares out of the dough with a pizza cutter or a good sharp knife or cookie cutters. Sprinkle with ground pepper.
Place in the oven for about 20 minutes at 180°C until golden and beginning to harden. Allow to cool completely, then cut with a knife to separate them and store in a tin for several days.
Chickpea and vegetable curry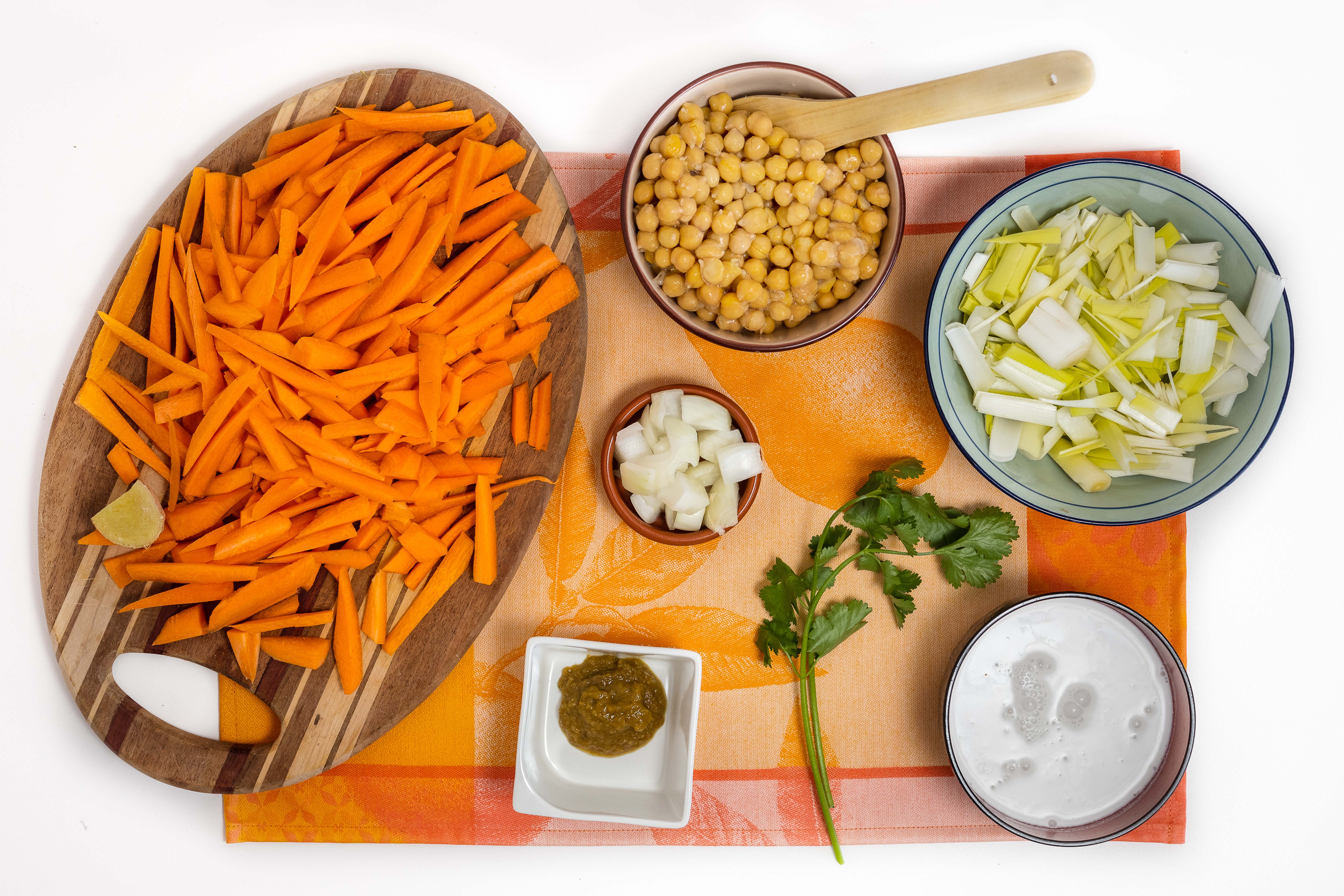 ingredients for 4 persons
1 large onion, thinly sliced
3 to 4 carrots
1 to 2 large leek whites
1 jar of cooked chickpeas, drained and rinsed thoroughly
1 tablespoon coconut oil or a drizzle of olive oil
500 mL good quality coconut milk
1 heaping tablespoon curry powder
1 tablespoon green curry paste
1 cm of grated fresh ginger
A pinch of Espelette pepper or cayenne pepper

To serve: A handful of unsalted cashews or peanuts, fresh coriander
Roast the cashews for a few minutes in the oven at 180°C or in a frying pan without fat. Coarsely crush them.
Prepare the chickpea curry: Heat a tablespoon of coconut oil or a drizzle of olive oil in a frying pan over medium heat and fry the thinly sliced onions until they become translucent, then add the peeled and finely sliced leek whites, leave to fry for a few minutes and finally add the peeled carrots, thinly sliced into strips. Brown everything for a few moments. Add a little water if the vegetables stick in the pan.
Add the grated fresh ginger, the spices, the curry paste, salt and pepper, then add the rinsed and well-drained chickpeas. Fry for about 5 minutes. Finally add the coconut milk, lower the heat and simmer for another 10 minutes on low heat. Taste and adjust the seasoning if necessary (add a little curry powder, chilli and salt to taste).
Arrange the bowls: Place some semolina in each bowl and pour the curry over it. This curry is also delicious served with rice.
Finish with a generous sprinkling of chopped coriander and crushed toasted cashews.
Serve hot but not burning to bring out all the flavors.