Warm and generous, our collections are rich in patterns worked with intense and shimmering colors. They are an invitation to travel, tell a story, evoke a memory, translate a desire, they participate in creating the soul and spirit of our house.
A linen bath towel for a refined well-being appointment.
A combination of tradition and modernity, this honeycomb collection is inspired by the authentic and essential spa world. White, grey, sand or ice blue, the soothing colors invite you to relax. Available in bath sheets, shower sheets, towels and guest towels, the Lula collection bears the mark of our high-end know-how with a delicate honeycomb weave and a medallion pattern. A careful finish with a ladder day and Masters of Linen are a testament to our culture of excellence.
Discover also in this universe our soaps, handcrafted from natural ingredients by Seam Soap, with a sweet almond fragrance for a complete well-being ritual.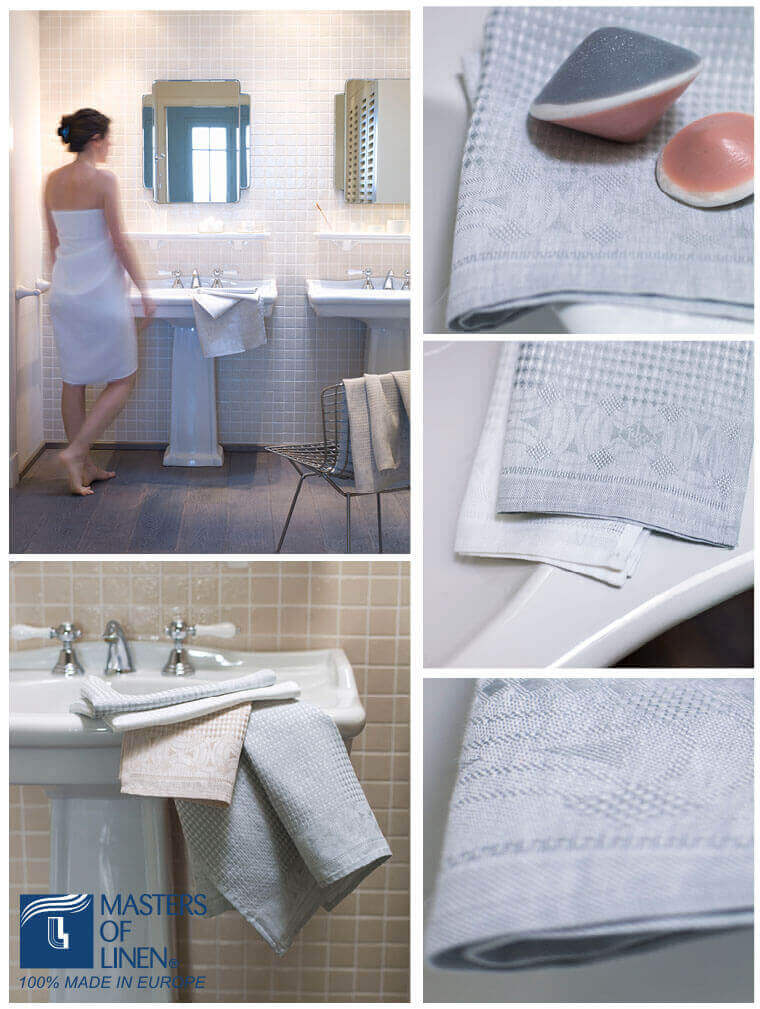 Make way for travel and exoticism. The Holi collection invites you to escape to India with a reinterpretation of its traditional motifs and its famous mandalas. Available in 2 colorful harmonies, Orchid and Sapphire, the Holi theme is also available in cushions and bags to affirm your style with elegance, at the beach or by the pool.
The beach towel, made of a very soft honeycomb, is absorbent and dries in a flash for maximum comfort. As large as it is light, it rolls up to fit easily into your suitcase without taking up too much space! Your best ally for summer: the beach pillow! Elegant and comfortable, it is resistant and practical with its inflatable interior. The beach bag, with its elegant frieze of chiseled patterns and its striped handles is the fashion accessory of the summer. Ultra practical with its interior pocket, it is also very resistant thanks to its lining.
To guarantee you quality products, we work with specific dyes that guarantee a good resistance to chlorinated water and light. Our beach towels are made of pre-washed cotton to be softer and more efficient from the first use.
An iconic theme of our house, nature is reinvented this year with a touch of fantasy.
Urban Nature celebrates the rebirth of vegetation and spreads the energy and joy of spring. Flowers and lush leaves invade tables and terraces to enjoy the mild weather. A collection placed under the sign of the abundant mixture of floral and geometric patterns, for a resolutely dynamic result. Colors mixing freshness, warm and soft tones to bring to your interiors and exteriors a joyful and elegant note.
Flowers, polka dots and 3D patterns are available on a wide range of items: tablecloths, napkins, placemats and table runners, wooden trays, paper napkins but also poufs, chair covers and cushion covers.
A collection that we have designed for easy daily use and to bring a touch of nature to any room in the house (even in the garden or on the terraces).
Our decorating tip? Dare to mix colors!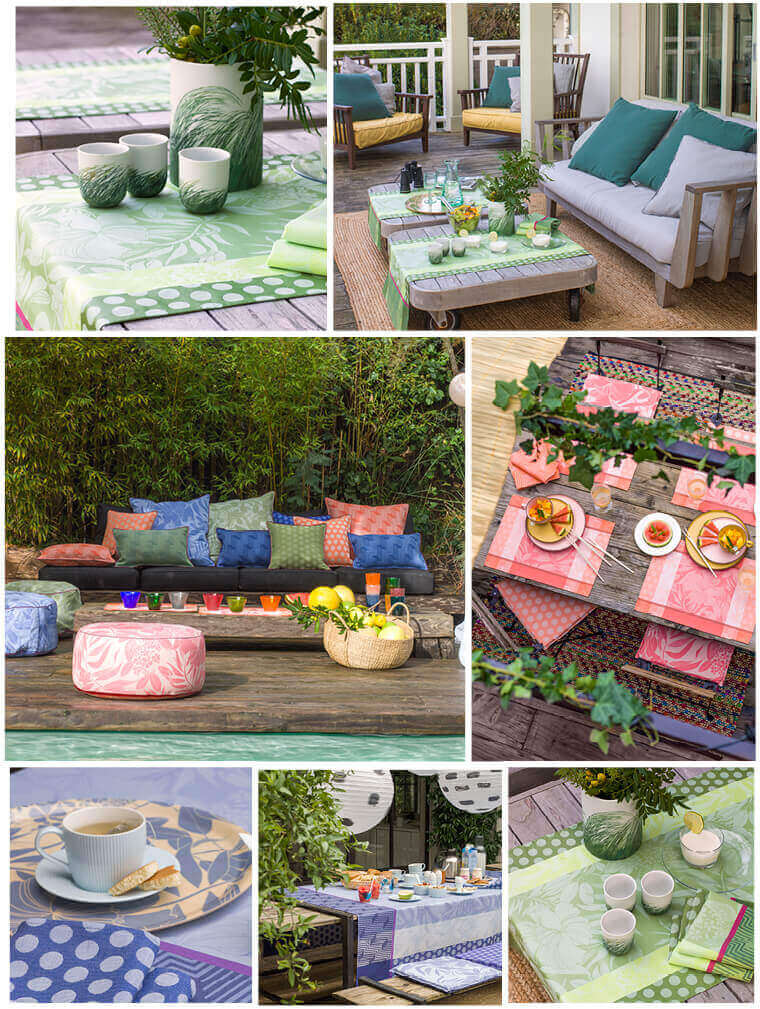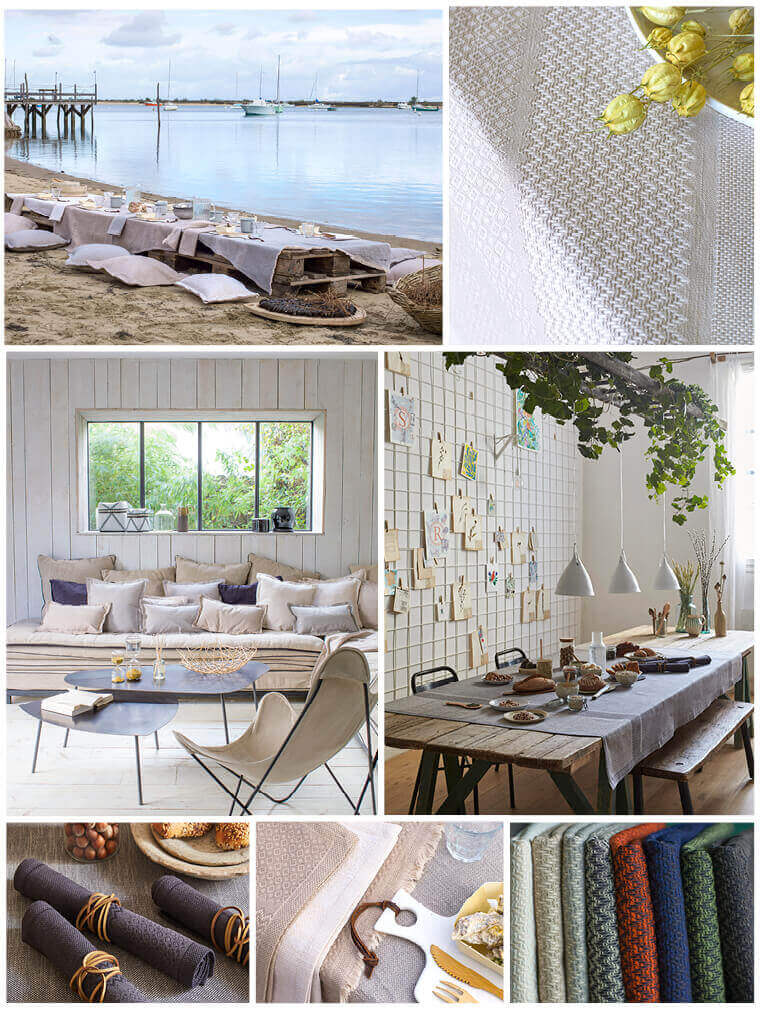 Take time and let go, adopt the slow life philosophy and its new art of living.
Authenticity is at the heart of this rich universe with table linens, kitchen linens but also decorative accessories. A refined decor, a worked weave, natural linen and cotton fibers, a range of mineral and pure colors intermingle for a design and cocooning spirit.
Through this collection, we wanted to offer you high-end products that are uninhibited by traditional uses. We don't hesitate to use the cushions on the ground for a chic picnic, we play with the Nomade to use it as a tablecloth as well as a bedspread, we use the napkin as a placemat.
The charm of Sicily is revealed in Syracuse, a collection of table linens that pays homage to the Italian way of life, perfect for taking time out and enjoying gourmet moments with elegance. Soft baroque-inspired patterns adorn the tablecloths, placemats and napkins in pastel colors with evocative names: Dolce, Sage or Aqua, in reference to the Italian island and the Mediterranean.
A collection also available for the first time at Le Jacquard Français in a version of outdoor accessories to take full advantage of the summer's mild weather.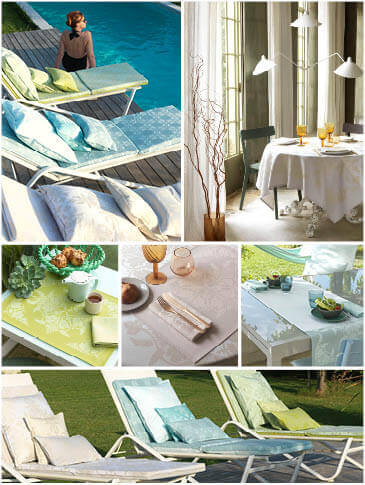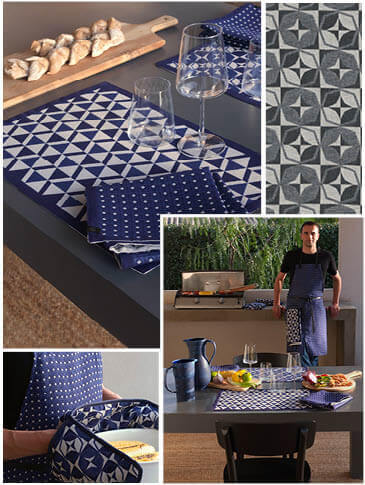 Le Jacquard Français is going all out with the "Bistronome" collection, which has an urban feel and is based on the codes of Parisian bistros, combining charm and authenticity.
Composed of a double potholder, an apron with leather ties, coated placemats, a tea towel, a napkin and trays, "Bistronome" is the chic and elegant secret ingredient for those who love cooking.