Warm and generous, our collections are rich in patterns worked with intense and shimmering colors. They are an invitation to travel, tell a story, evoke a memory, translate a desire, they participate in creating the soul and spirit of our house.
The Armoiries table linen collection is a true ode to elegance and tradition. Made from the highest quality linen, this collection embodies refined craftsmanship and attention to detail. Each elegant piece features a subtle assemblage of arabesques, acanthus leaves and fleur-de-lys. Exceptional craftsmanship honored with a château rose window.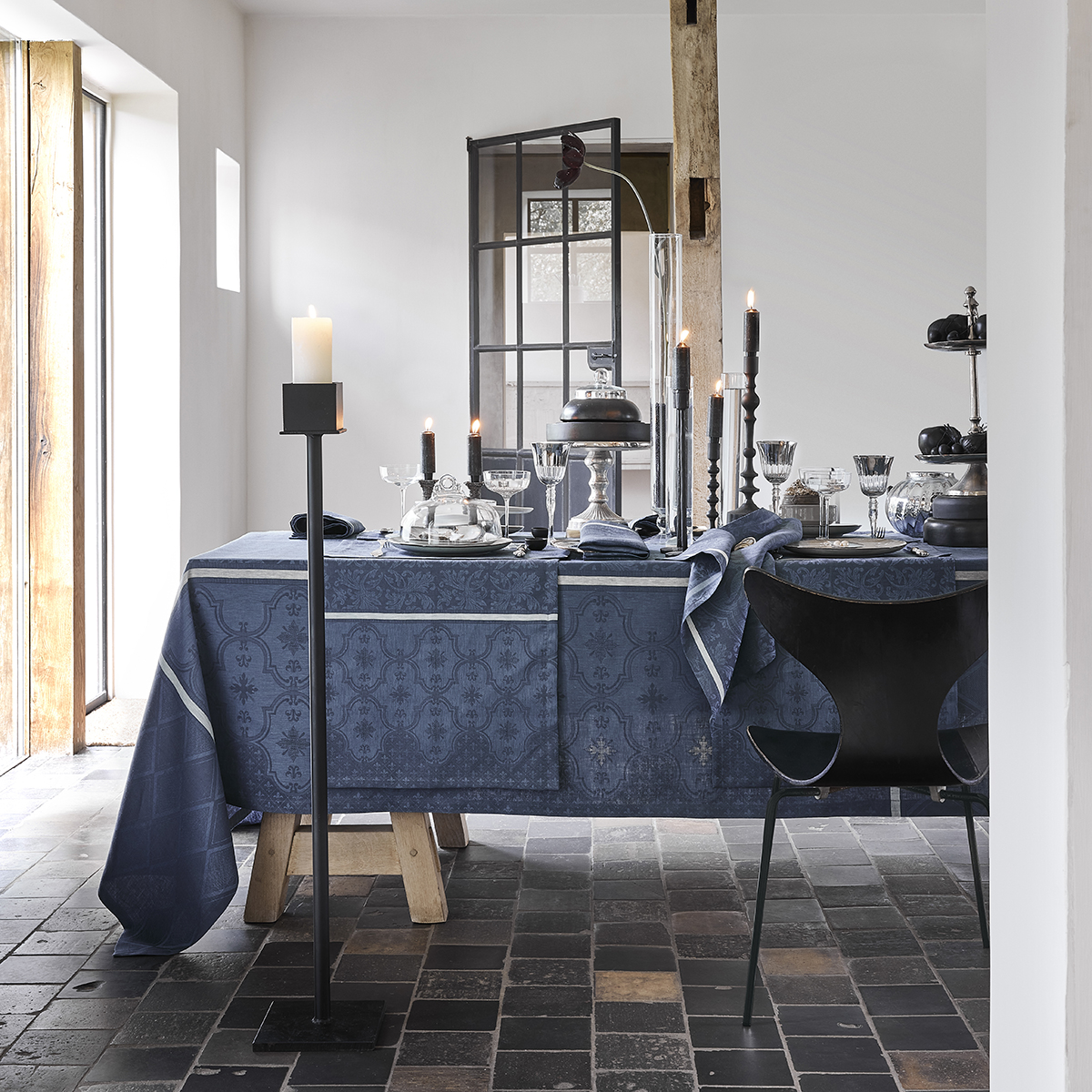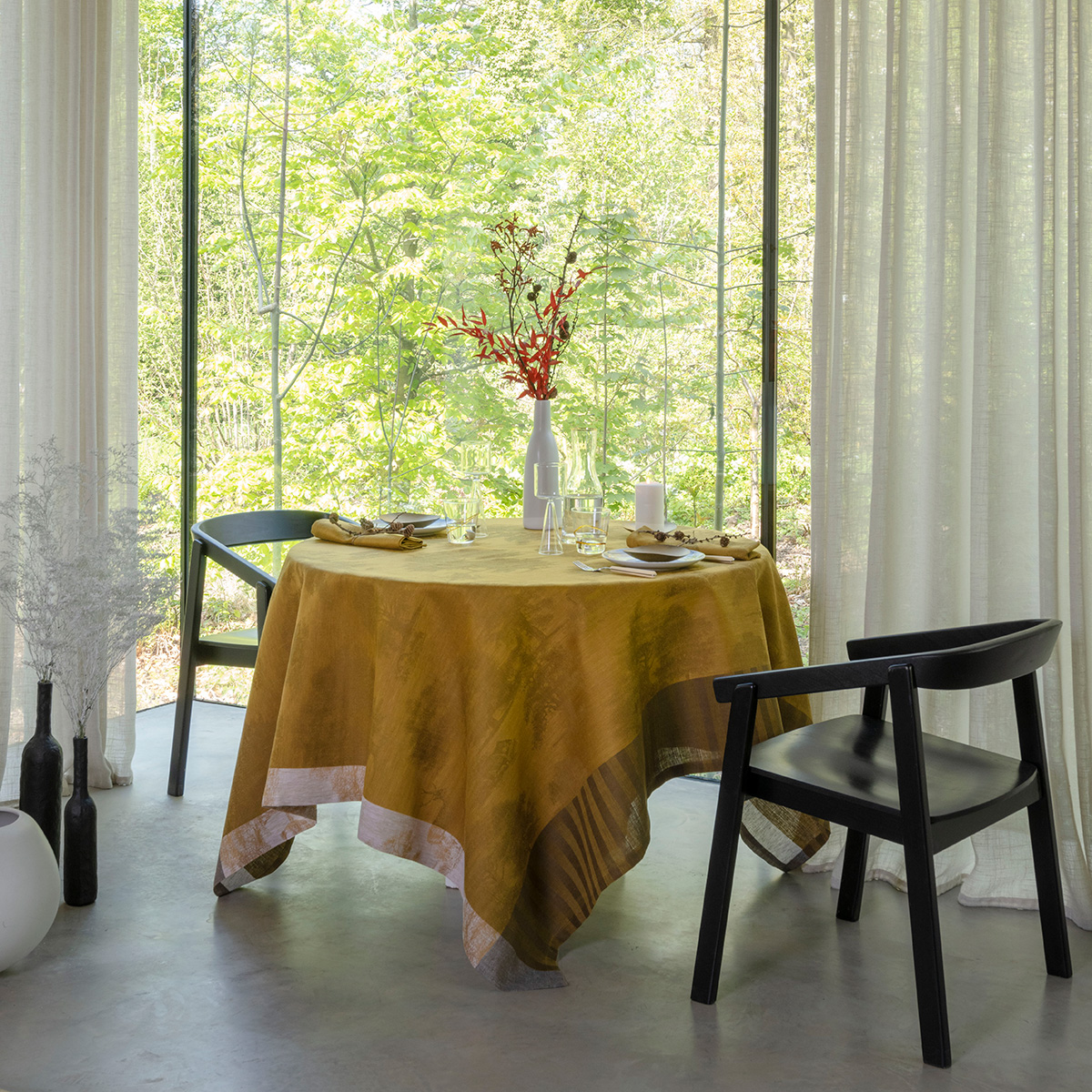 For this new season, Le Jacquard Français immerses you in an enchanting, fairytale atmosphere with the Souveraine collection.
It's like a toile de Jouy where marcassins, fawns and levrauts bask in total harmony.
Slow Life Re-Use Collection
Following the success of Slow Life, Le Jacquard Français reinvents itself and presents its new Slow Life Re-Use collection. This authentic design range is imbued with sustainability and relaxation, and comes to life through the use of yarns made from recycled cotton and polyester.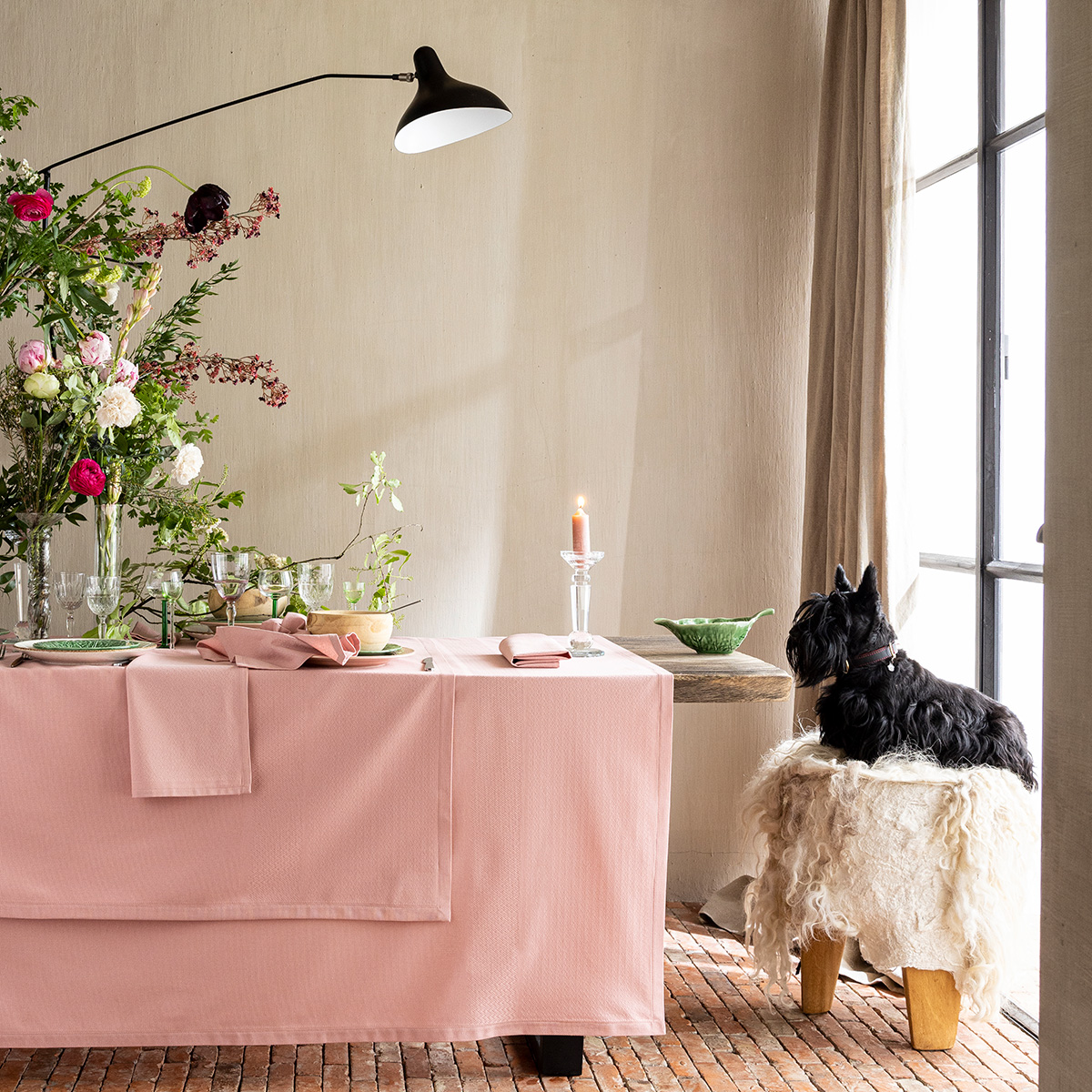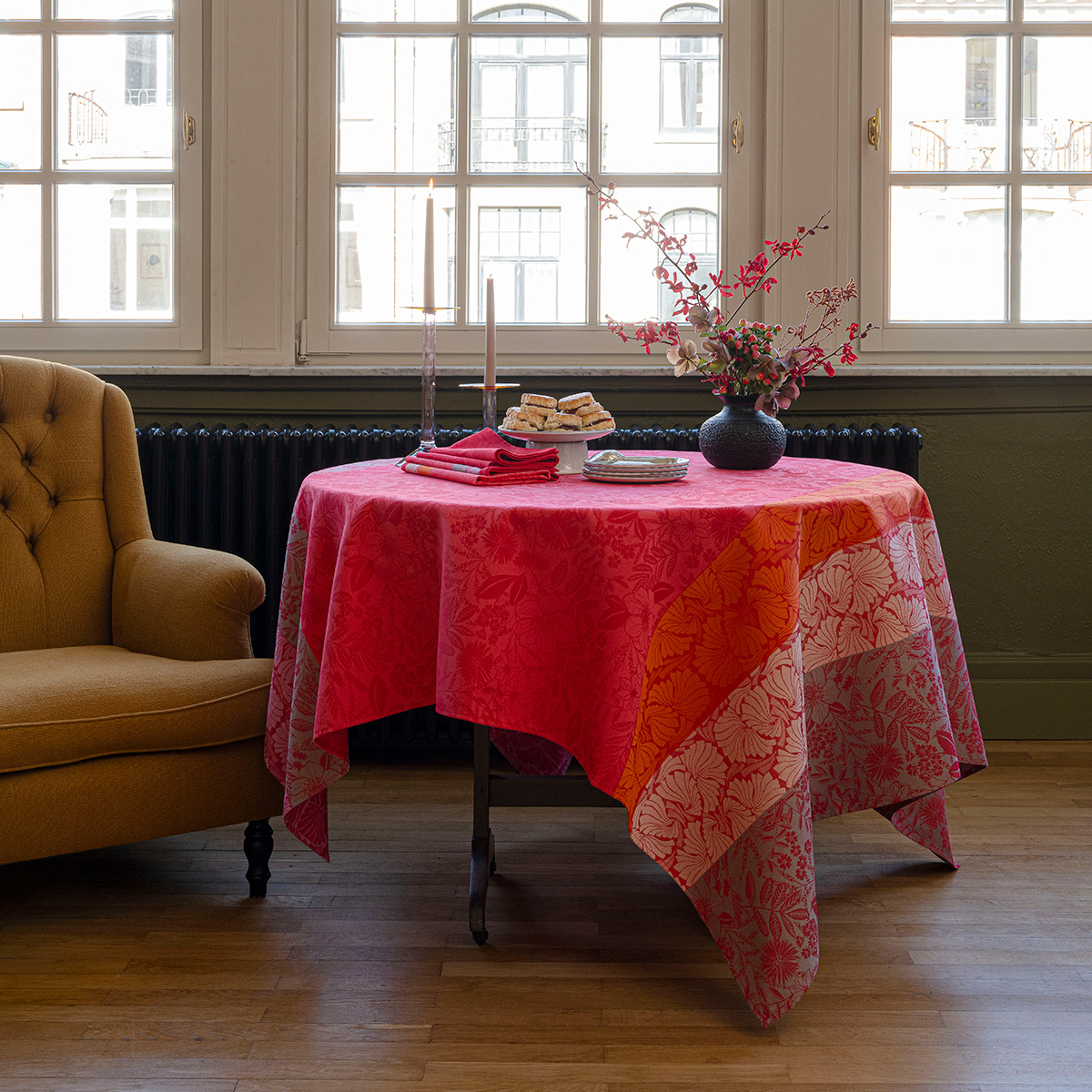 The Cottage collection evokes a timeless charm and gentle elegance that transports spirits to blooming gardens, picturesque cottages and bucolic getaways. Each piece in this captivating collection tells a delicate story, weaving romantic memories and warm nostalgia.
Instant bucolique Collection
The Instant bucolique table linen collection brings the essence of nature into your dining room, creating an enchanted atmosphere where rustic beauty meets refined elegance. Each piece in this collection is designed to capture the bucolic spirit of country landscapes, bringing a touch of charm and poetry to your meals.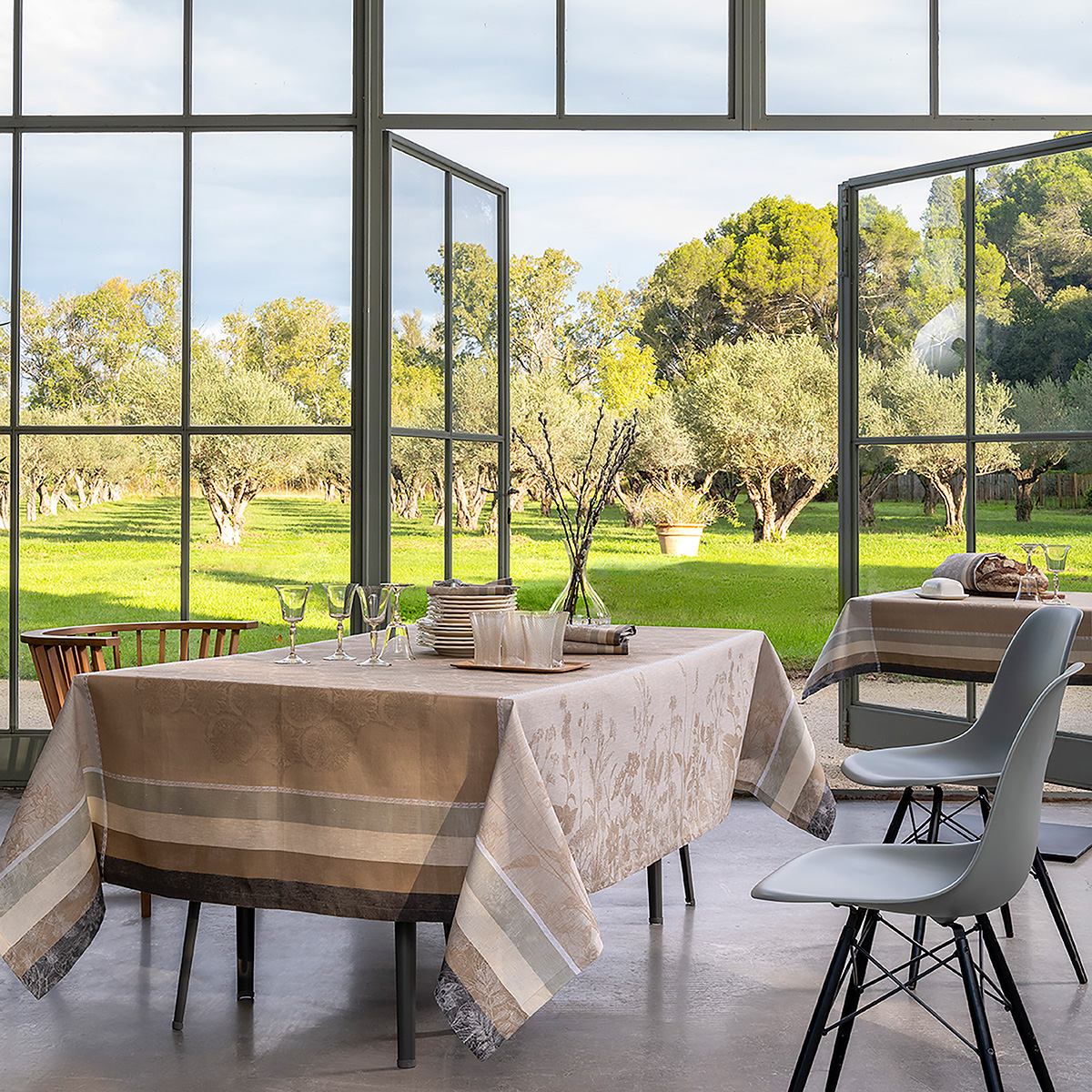 Voyage Iconique Collection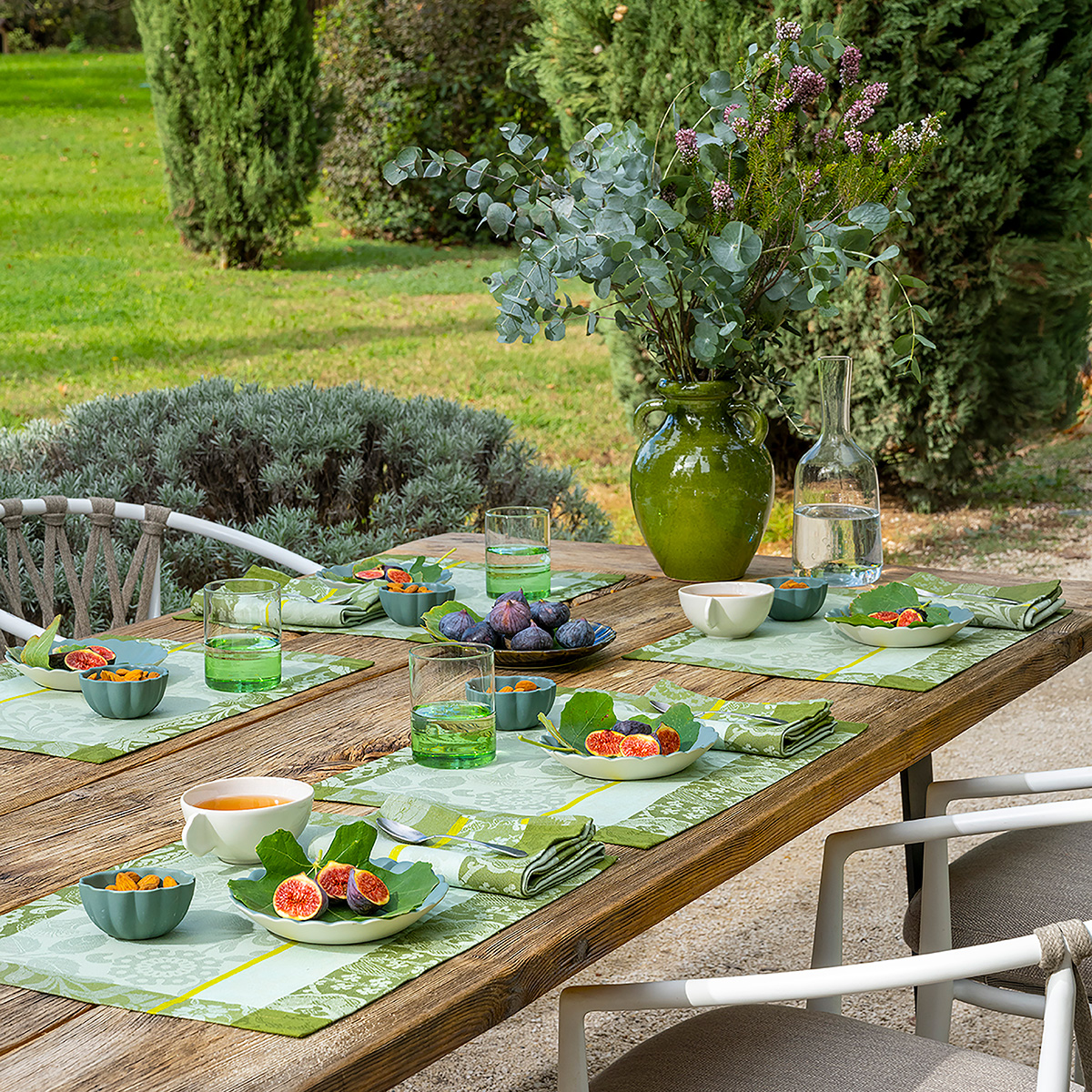 Voyage iconique, a veritable ode to floral beauty, is a tribute to nature that evokes the travelling soul in all of us. In a whirlwind of colors and textures, Voyage iconique transports our senses to distant horizons, unexplored lands where timeless charm meets contemporary elegance.
The Essentiel collection is inspired by the vintage trend and the return to the linens of the past, in powdered colors, resolutely in the air of time, for a return to the essential! Floral patterns blend with rich, complex geometries that highlight the know-how of the jacquard weaving.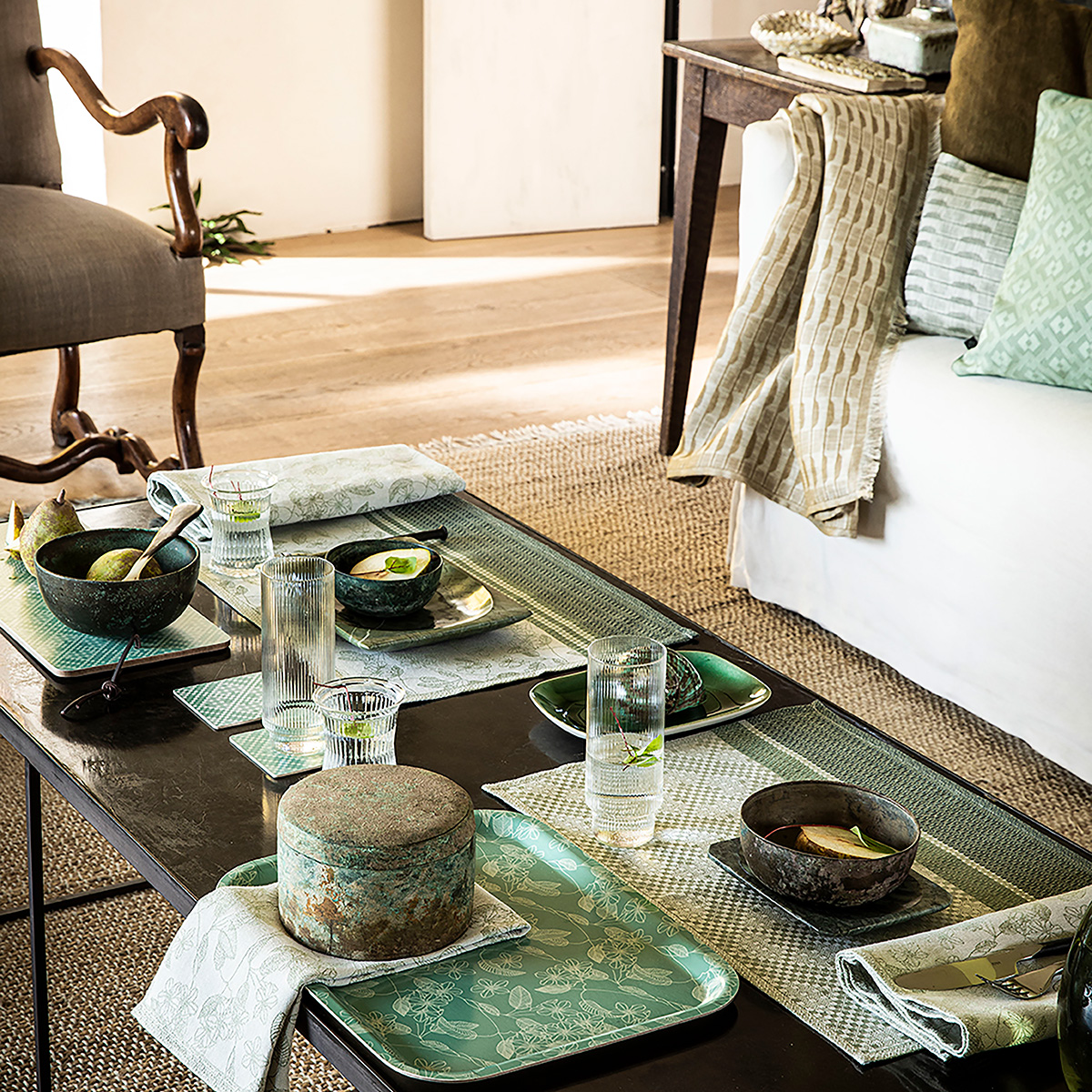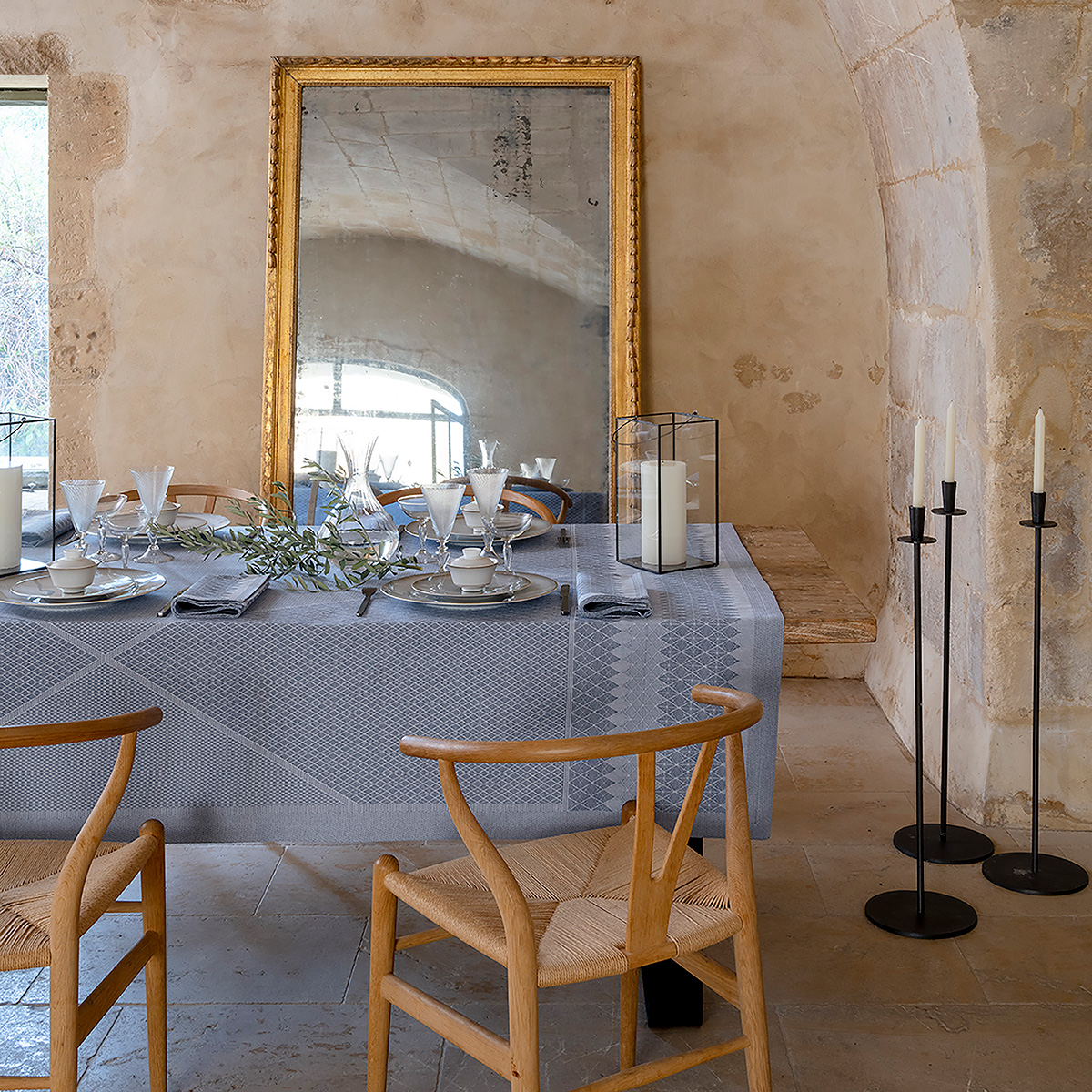 The Club collection is back to enhance your home! This season, the exclusive collaboration returns with new colors. From alabaster white to denim blue, the architect's vocabulary comes to life and the weaving is like a sketchbook. A complete table linen collection that blends Jean-Michel Wilmotte's identity with French savoir-faire. Let's join the Club !
As an evidence, the collaboration QUINSAI x LE JACQUARD FRANÇAIS, is a bridge between interior decoration and table art. The same region, the same elegant style, the same desire for a sumptuous and refined decoration unites these two houses. The spectacular and meticulous designs of Quinsaï are combined with the delicate and fine weaving skills of our House. From this unique collaboration is born a sophisticated and spectacular 100% linen collection, Volière. It shows a peaceful and harmonious complicity between vegetation and birds.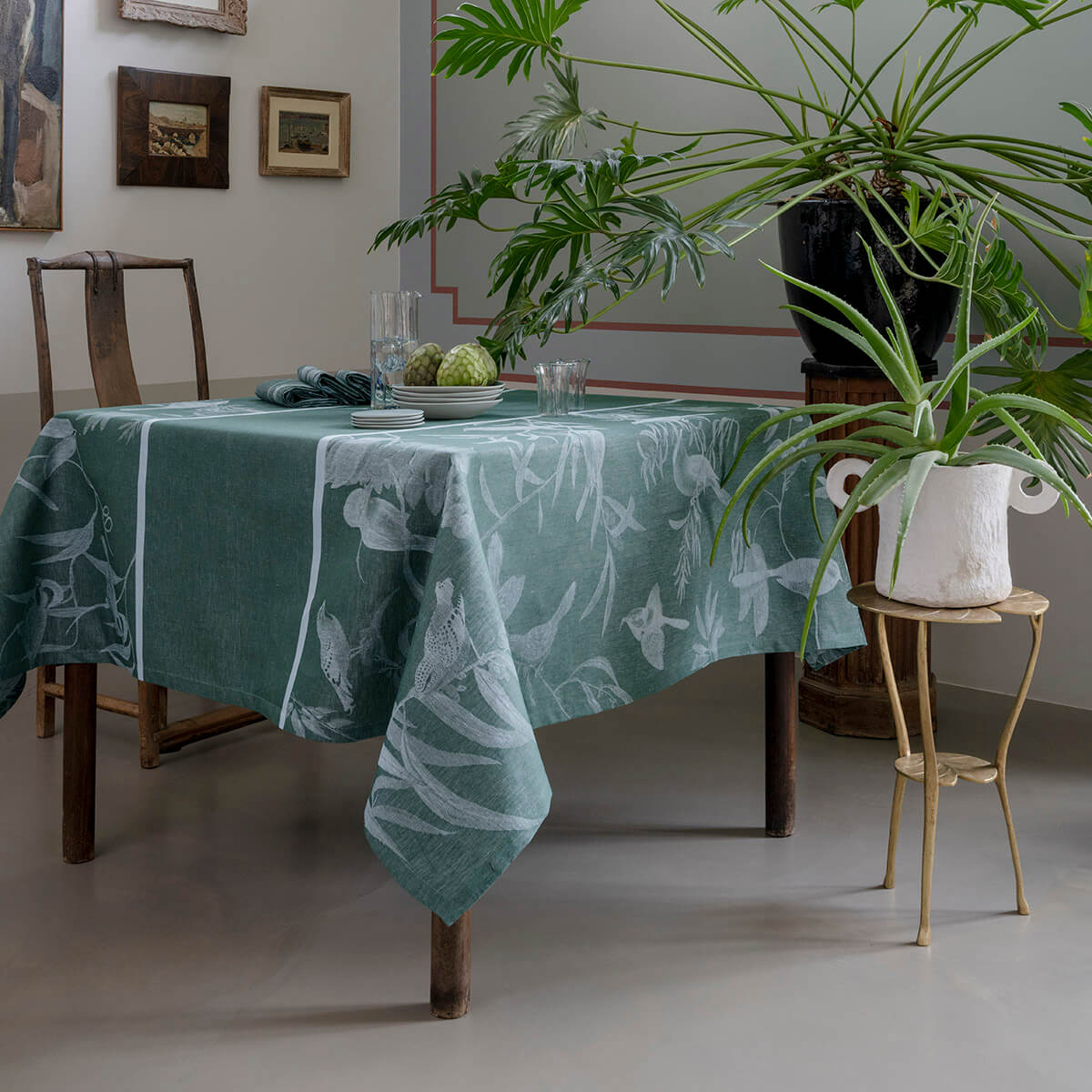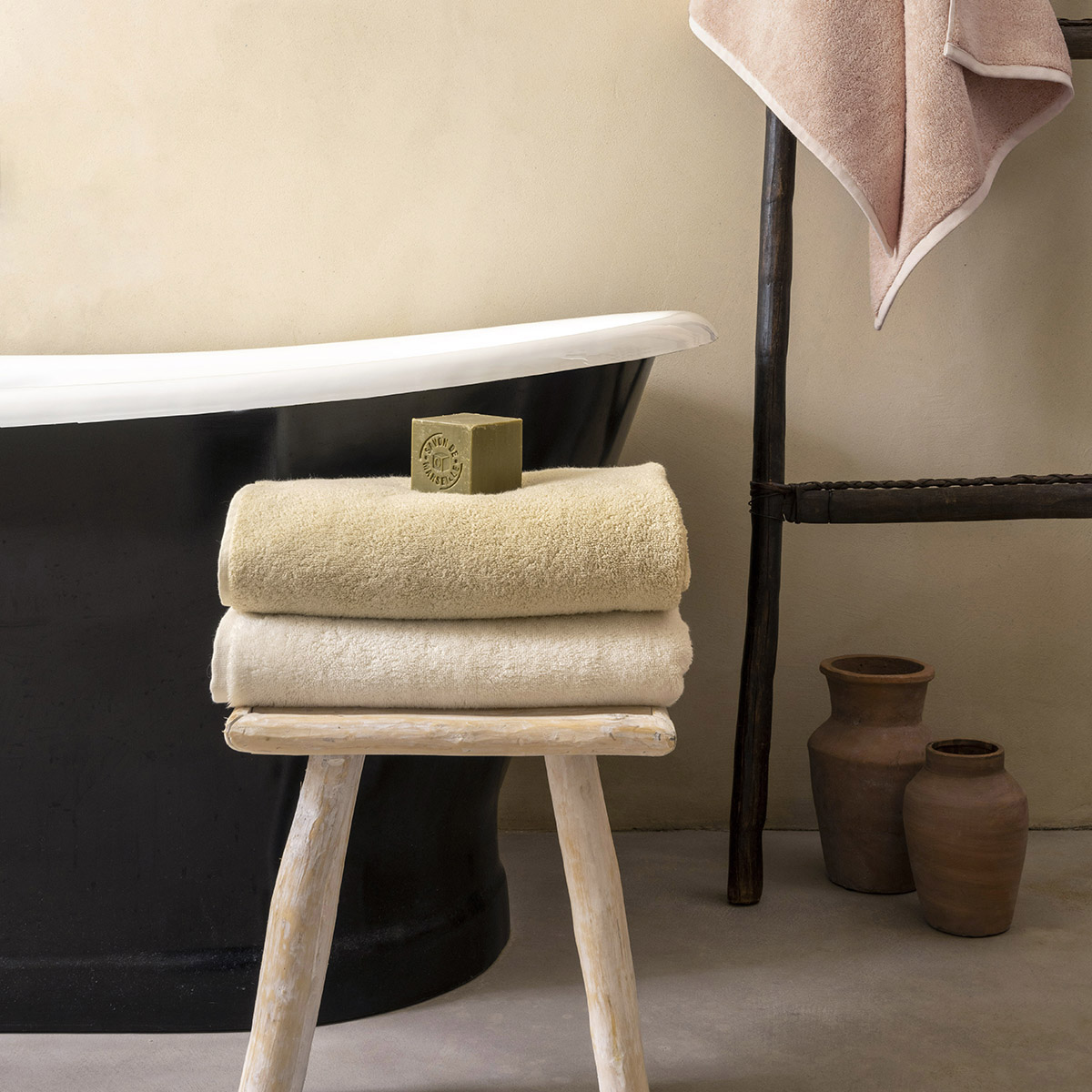 Made with GOTS certified organic cotton and dyed with a chemical-free process, the clay collection is our first 100% natural bath linen collection. Vegetable dyeing is a sustainable and ecological technique that offers a compromise between productivity and responsible consumption. It saves 30% of water and 30% of energy compared to a "classic" production. The natural dyeing is softer, you will notice differences in the bath between products and a slight discoloration of the products during the first wash. This is the beautiful imperfection of nature.
The charm of an Italian dinner, the luxury and refinement of a plain 100% linen. The finishes, mitered corners and laddered days, add character to this collection with its bright tones and delicate weave.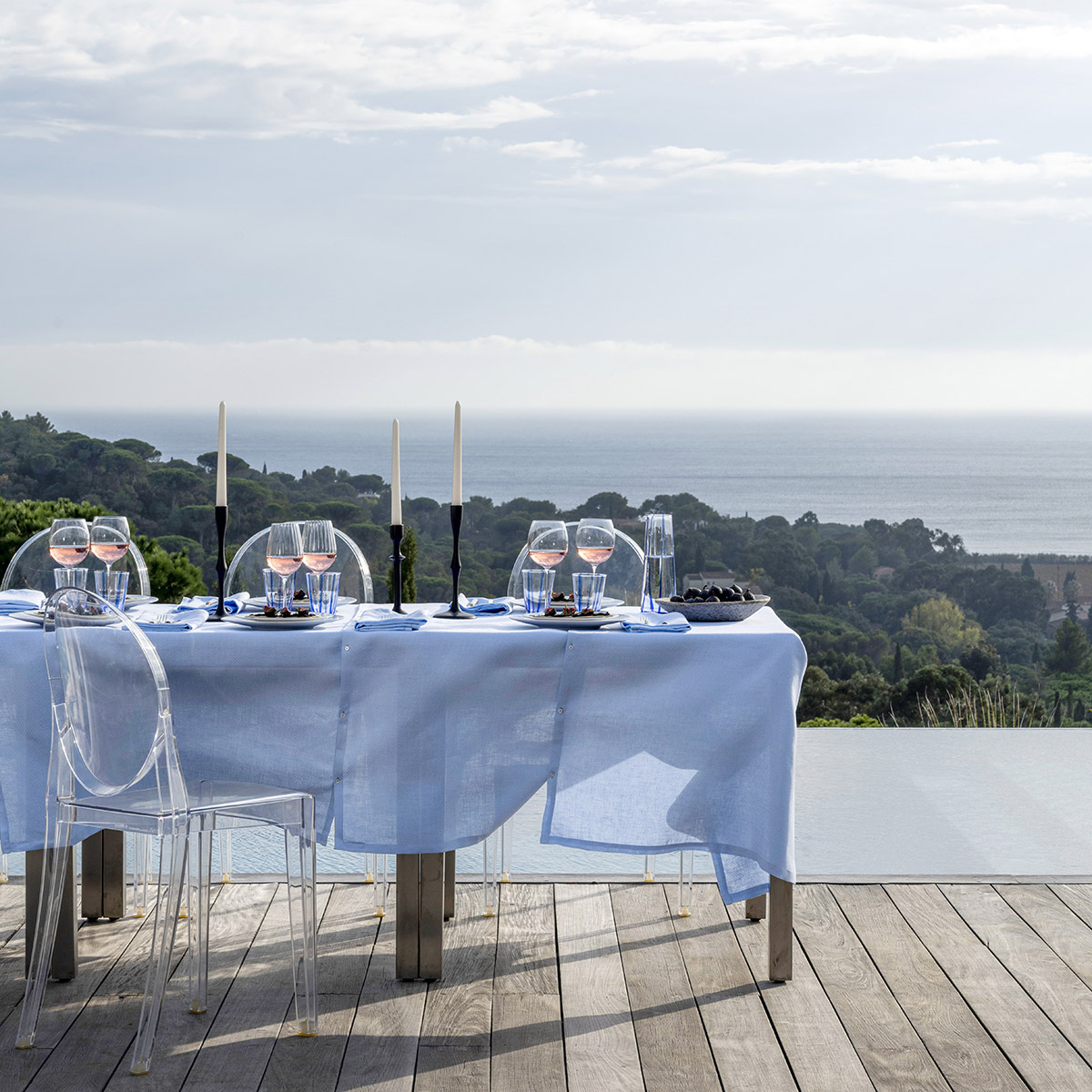 Nature Sauvage Collection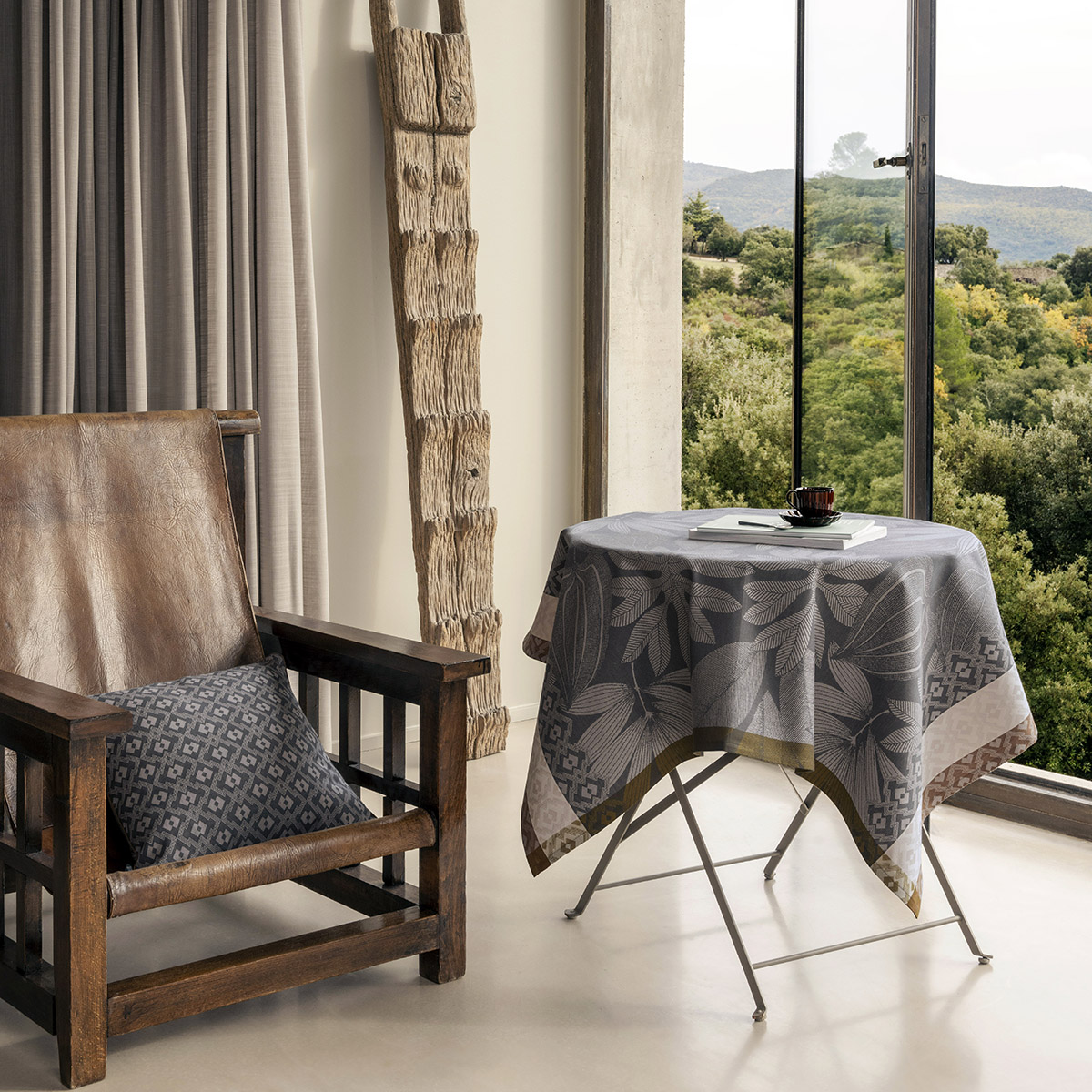 Nature Sauvage answers our quest for the essential and for nature with its generous flora and its geometric tribal pattern. A collection that can be used for your daily family meals as well as for festive meals!
Our Elysée range is enriched by the Gastronomie collection. A line dedicated to French cuisine with an engraved weave to highlight the iconic products of our gastronomy and negative effect for modernity.